It's been in the news in recent months that Kim Jong-un, the leader of North Korea, appears to have lost a great deal of weight. It's not clear exactly what Kim did to lose the weight, although those who watch North Korea have been following the situation for clues as to what it means for Kim's position.
Observers believe that if Kim has lost weight due to living a healthier lifestyle, then that's considered a good thing for his strength, but if he's battling some sort of illness that has caused the weight loss, then the opposite is true.
Now, there's something else in the North Korea media talking about weight issues, although nothing having to do with Kim Jong-un.
NK News reported this week that North Korean state media recently broadcast a cartoon "criticizing friend for being overweight." The cartoon shows the girl in "an apparent food coma" as a result of apparent overeating.
The story added that while many people in North Korea are currently suffering from hunger, as a result of coronavirus-related shortages, obesity is a problem that is growing among North Korea's elite class.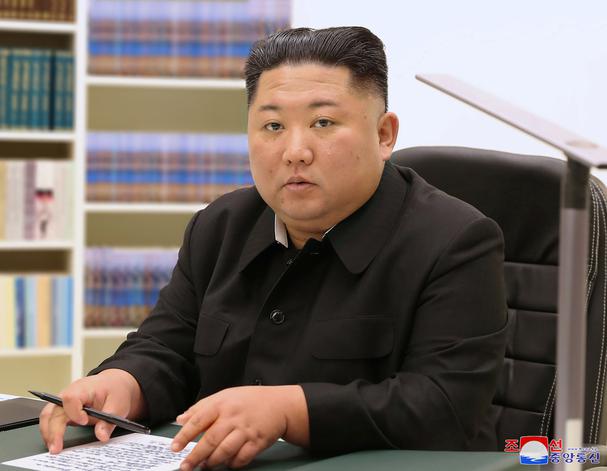 While the North Korean regime usually puts a positive spin on ongoings in that country, they have been very open about recnt starvation. Comparisons have been made to both North Korea's 1994 famine, and to the earlier "Arduous March." However, the nation has mostly rejected the help of international agencies, including when it comes to vaccines.
Human Rights Watch Researcher Lina Yoon has declared that North Korea is "in crisis."
"There is barely any food going into the country from China for almost two months now," a missionary told Yoon. "There are so many more beggars, some people died from hunger in the border area and there's no soap, toothpaste, or batteries."
"It has become increasingly difficult to learn the truth about what is happening to ordinary people, but there is little doubt that the situation is dire," Yoon said.
"Official trade data provides a glimpse of the grim economic plight of the North Korean people," according to Yoon. "Trade with China in 2020 decreased by almost 81 percent, which came after already enormous drops in 2018, after the United Nations anti-weapons proliferation sanctions were expanded. The government dramatically reduced imports of staple foods and other necessities from China in August and stopped almost all imports, including all food and medicine, in October, claiming that COVID-19 can spread through migratory birds and animals, snow, and 'yellow dust' blowing into the country from China. These shocks came alongside severe floods that hit the country between June and September, destroying crops, roads, and bridges—further undermining agricultural production."
Stephen Silver, a technology writer for the National Interest, is a journalist, essayist and film critic, who is also a contributor to The Philadelphia Inquirer, Philly Voice, Philadelphia Weekly, the Jewish Telegraphic Agency, Living Life Fearless, Backstage magazine, Broad Street Review and Splice Today. The co-founder of the Philadelphia Film Critics Circle, Stephen lives in suburban Philadelphia with his wife and two sons. Follow him on Twitter at @StephenSilver.