PROVIDENCE, R.I. (WPRI) — Rhode Island Gov. Dan McKee claims he had to make a nearly $40 million adjustment to his state budget proposal as a result of inaccurate information received from the previous administration regarding the embattled Eleanor Slater Hospital.
McKee made the statement during a news conference Tuesday afternoon with Lt. Gov. Sabina Matos. While he didn't go into the specifics, McKee said the budget he took over from former Gov. Gina Raimondo included some incorrect assumptions about how much money the state could save in the current and upcoming fiscal years.
"When we went through the budget time frame, there were assumptions that were given to us that were not real," he said. "It was a fairy tale."
"Those assumptions really short-changed the budget a significant amount of dollars," McKee added.
McKee said he will have a plan for Eleanor Slater and its 222 patients by the end of June. For months, the hospital system has been in the headlines due to a combination of money problems, workplace dysfunction and regulatory concerns.
According to R.I. House fiscal staff, McKee this week rescinded an estimated $38.7 million he'd previously proposed in his fiscal 2021-22 budget. The amendment also reverses his previous proposal to eliminate 100 full-time positions at the state agency overseeing the troubled hospital.
Target 12: AG still 'a long way' from finishing Eleanor Slater Hospital probe
Additionally, the McKee administration had hoped to retroactively bill for $10 million in Medicaid funding, a move he announced earlier this year after the federal government gave Rhode Island the green light to restart billing nearly 18 months after state officials stopped requesting reimbursements.
But that retroactive billing was shortly thereafter put on hold after concerns were raised about whether the state was in federal compliance — a longstanding issue that some administrators last week claimed has been going on for years.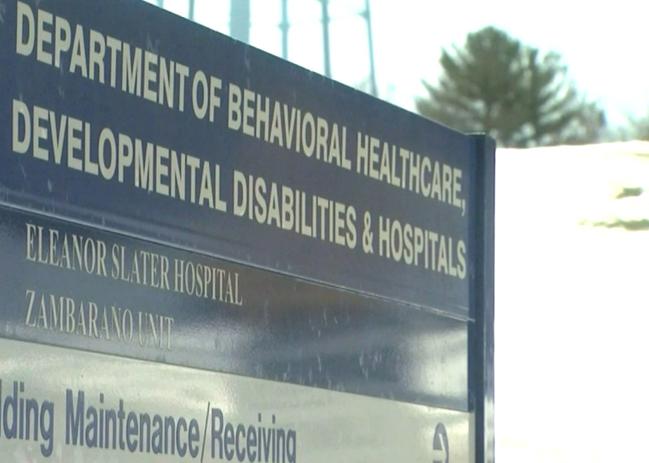 In all, the lapse in Medicaid reimbursements has cost state taxpayers more than $100 million in general revenue, and McKee is no longer accounting for that $10 million in Medicaid funding, according to House fiscal documents.
Video Now: McKee, Matos remarks (story continues below)
During his news conference Tuesday, McKee also touched on several other topics related to state government, including the departure of DEM Director Janet Coit, who's stepping down after a decade of leading the department.
Additionally, he took a stance on several pieces of legislation being considered by the General Assembly that aim to raise certain taxes.
A day after business owners rallied against some of those bills, McKee said he does not support raising taxes this year.
The proposals being considered include increasing the income tax for high earners and imposing a tax on sugary drinks.
"This is not the year, whether it's the income tax, in my opinion, or any other tax right now that is going hit the consumer in a way that takes more money out of their pocket," McKee said.
The sugary drink tax bill aims to provide funding for a program to help families with food insecurity. McKee said he hopes to find ways to make that program happen without raising taxes.
Video Now: McKee, Matos Q&A