Runescape is still going strong after two decades. The game has seen multiple versions of itself, a real-life annual gathering and receives weekly updates. In honor of the 20th birthday, the creators of the game are hosting a big in-game event on the 4th of January at 3PM European Time. We've talked to Product Director Matt Casey and Lead Designer Dave Osborne to look back at what made this game this big.
The MMORPG Runescape has been around for a while. The game officially released in 2001 and it's still widely played today. With both the old school version and the more recent 'RS3' over 200 million accounts are created, the game even managed to get into the Guiness world book of records. Twenty years is impressive, and the creators did not think it would survive that long. "I started 15 years ago and back when I first joined, you know, there was always that feeling that games don't last. Beyond five years, we were surprised to be there after five years and that was when I joined 15 years ago. But the game has a fantastic way of mixing up each year. The game varies a lot which makes it nice to work for but also for the player, to keep things dynamic," Dave Osborne told us. Matt Casey adds that they "have hit the highest numbers of players ever and even get messages from players asking if this is really what's happening."
So how has this game lived out so many other games? "It's the kind of game that you never really leave, isn't it", said Casey. "If you stop playing you tend to come back. I think it has to do with when people started playing as young adults. It is the kind of game you always hold close to you and I think that is why people always come back to it". The game, however, is not only run by the old players. They definitely upgraded to make the game playable in more than one way. Runescape, for a long time, was only playable on PC. Back in 2018 they released it for mobile and since this year the RS3 version of the game can also be found on steam whilst the old school version is set to follow in early 2021. "Making the game widely accessible for players but also constantly updating, Runescape was always ahead of the curve. Bringing out so to speak monthly packaged updates. It's also a very social game. Compare Runescape to a relationship. Every relationship has bumpy moments. Right now, we are luckily in a good part of the relationship!" Osborne says with a big smile.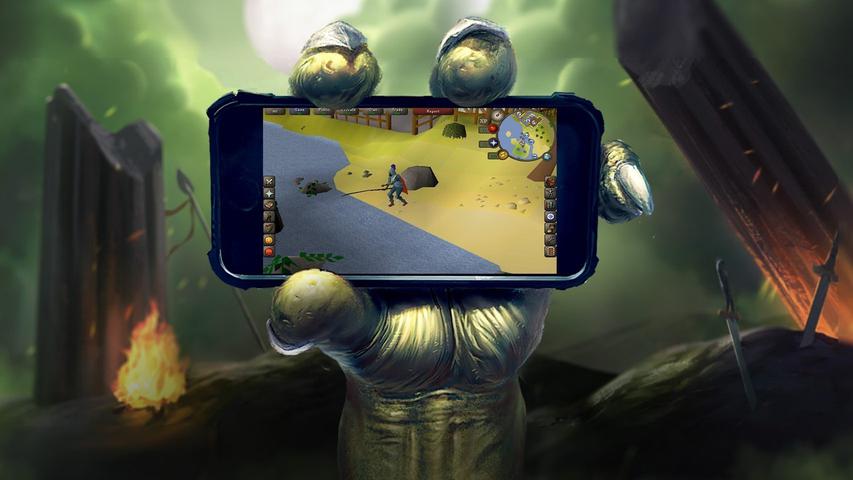 Currently Runescape has the most players it has ever had, but the creators do not intend to slow down. After twenty years the game finally took itself to Steam and they were happy with the outcome. The reviews were very positive and there was a huge in-game party in Gielinor. "Our hardcore players recognized this, it's great we got new players coming in, we can help them, give them cash and weapons to get them going", Casey told. Osborne added "It was like we had a whole community of Ben Kenobi's!" The game being made available cross platform, from your PC's, to mobile phones and now also to Steam has made the game only more accessible to play. Which is rather unique in its kind since there are not a lot of MMO's that do such a thing. Bringing the game to a wider audience has been really a big part in Runescape's anniversary.
Runescape has always been very characteristic. "It's always laced with plenty of humor, color and imagination and plenty of twists and turns. There is a quest involving grim towers and instead of Rapunzel, we've got a dwarf with a long beard", said Osborne. When you go questing it is almost guaranteed you are going to immerse yourself in it for a couple of hours. Also, the bond between the player and developer is important. Since Runescape has two versions, both are handled differently. For example, in the Oldschool version of the game, players are able to vote for their next preferred update, which can sometimes result in players picking things that the developers had never expected. Osborne adds: "Pulling things like tutorialization or PvP, where there is a niche of players who really wanted it, is always problematic, but in general it does so much more for the identity of the game. Players feel like they own it and need to protect it." Casey: "Oldschool is more of a heritage piece that needs to be preserved in a way people remember it and we absolutely respect that. This is why we poll everything that gets into the game but it needs to meet the player approval. Runescape 3 is more like a theme park where we're adding new stuff all the time. So you can see it's constantly evolving." There is also a specially dedicated 'ninja team', who act almost as a rapid response unit for players to communicate straight to the developer's team. They can be accessed by players through any social channel, whether it be twitter or reddit, to speak their mind about something that might irritate them in the game or an area that needs to be fixed. Therefore, the bridge between creator and player has gotten very small and they're able to "adapt feedback very quickly into the game". Runescape has had so many bumps, for example the trading update and the disappearance of player killing in the wilderness, however all of this have been kind of reversed. "It's part of what made the journey so interesting. It has given Runescape its independent spirit. It's good that at least people are talking about it", continues Osborne. They make it clear that the game is always evolving, always trying to be the next 'Golden Age' of Runescape.
In twenty years of Runescape, milestones have been reached but also a lot of crazy things have happened. For the players there were some wild things that happened, like the Falador massacre of Durial321 to the passing of famous legend Zezima at the Grand Exchange. The developers experienced different kinds of highlights. For Dave Osborne who has been editing and narrating the story for over 15 years it is creating one story for Runescape. Everything comes together, it is no longer doing separate quests. For Matt Casey it's the offer of two separate games which has worked out greatly. The game has been continuously evolved and was according to Casey a brave move by Jagex. "It's grown the overall franchise of Runescape, but also just reached 20 years!"
To honor this 20-year-old milestone, the Runescape creators have a lot of new content and festivity in store. There will be a party on the 4th of January in Gielinor, which also will represent the start of a year long quest series similar to the one that came out for Christmas (Christmas Carole, the past, present and future). Unique in-game collectibles such as a 20th year anniversary cape and a platinium outfit. There also will be a new god wars dungeon representing the elder gods and a 20th year anniversary book coming out, filled with artwork showing how the game was made of this period of time. In oldschool Runescape you will come along on an adventure with a gnome child in honor of this milestone.