DETAILS
Lesson Plans for Teaching Spoken Word Poetry in Alberta
An example-based guide for teachers using spoken word poems by Nisha Patel and BiCurious George. Compiled and Created by Grayson Thate.
47 pages
Published by Nisha Patel
Free to download by visiting books.google.ca/books/about?id=5PU8EAAAQBAJ&redir_esc=y&hl=en
English classes will never be the same again. The word has just come in that slam poetry is teachable, what with the release of a new book of lesson plans partially based off the spoken word poetry of Metro Edmonton Libraries' current writer in residence Nisha Patel.
The book, Lesson Plans for Teaching Spoken Word Poetry in Alberta, is an example-based guide for teachers using spoken word poems by Patel and BiCurious George, a poet based in Montreal. This makes Patel excited for September, when thousands of Alberta high school students can become acquainted with the energy and the confidence boost that comes with slam poetry without all the hoity-toity semantics of old-school poetry.
"I think when you work in the community long enough, you eventually do classroom visits. You're brought in for poetry units. Oftentimes, we're thought of as more modern alternatives to poetry. Students who really hate poetry get to see spoken-word artists and get the idea that poetry is more than what it used to be," Patel began.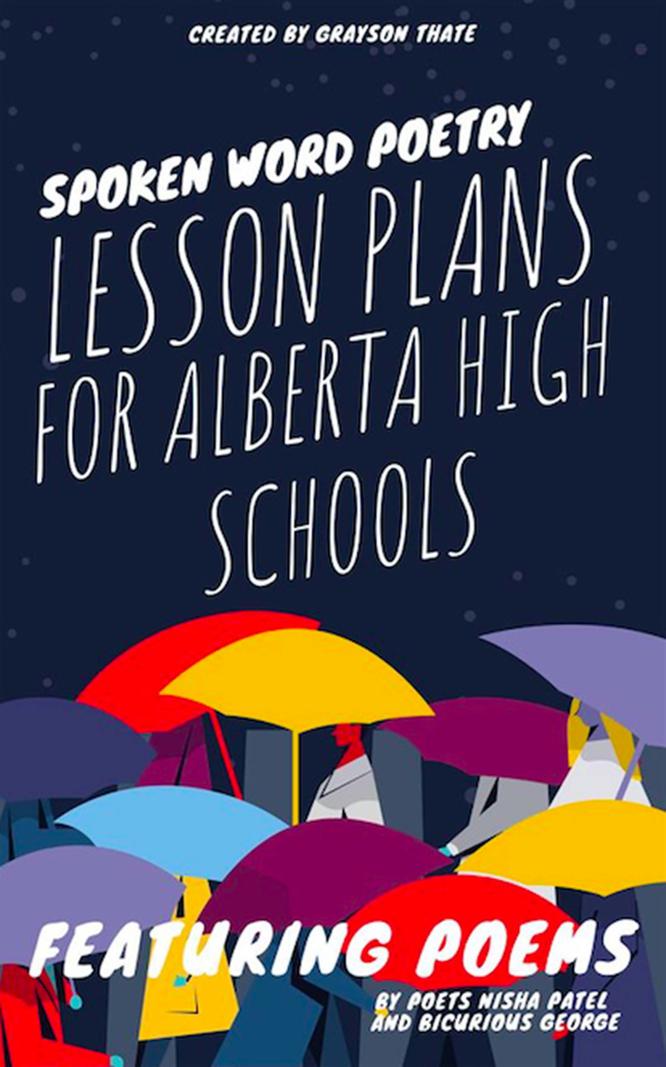 "This is probably one of the first times where someone's like, 'Actually, let's treat spoken-word poetry the same way we treat poetry. Let's do lesson planning around it based on the assumption that this poetry is similar in nature, or can be just as easily understood.'"
Paul Kane English teacher and slam poetry club coach Karen May Healey was thrilled at the news of the book's release. After reviewing its contents, she enthusiastically described it as a fantastic resource and refused to back away from offering high praise for Patel's writing as well.
"As a poetry teacher, I am always looking for texts that challenge and enlighten. Nisha's writing is bold and honest, giving insights that express powerful emotions regarding race, gender, and social norms. These are the poems that generate lively discussion in our classrooms," said Healey.
"I am thrilled that our local community has embraced Nisha as poet laureate and author by encouraging her voice, which speaks about previously whispered topics deserving more open reflection."
Healey remarked on how slam poetry in general can help bridge the connection to marginalized voices, offering a positive impact on the mental health of members of those groups.
"Students are pleasantly surprised when they see issues that they can relate to in the pages of their textbook. Nisha, along with BiCurious George, have put together a text that is a window into empathy regarding issues that affect our students. It begins in the classroom and continues in the conversations and writings that take place afterwards. In those spaces, we learn more about not just our students but ourselves as well."
The new teaching resource was also developed by Grayson Thate, a former St. Albert resident who was also Edmonton's third youth poet laureate. The project was partially funded by the Canada Council for the Arts.
"Grayson was amazing. Grayson's the one who really did the heavy lifting here to get into how does a lesson plan work? What are the right questions to ask? We did the easy part of writing the poems and, in some cases, some of the poems are ones that audiences have heard before," Patel added.
Patel, a young but seasoned spoken word poetry performer, recently completed her two-year term as Edmonton's poet laureate, but still remains as executive director of the Edmonton Poetry Festival. As a working and award-winning poet, she holds the 2019 Canadian Individual Slam Champion and Edmonton Slam Champion titles.
What rhymes with titles? It doesn't matter, because slamming is only partially about the words. It's about the performance and the competition. Furthermore, it helps youths to become excited about writing and literature.