Sandeep Rana
Tribune News Service
Chandigarh, August 24
While the Municipal Corporation (MC) has "failed to do enough" to contain the population of stray dogs in the city, two youngsters have got about 65 canines sterilised in the past three months.
With a motto to create "puppy-free zone", psychology student Diksha Gupta and start-up founder Anhad Sandhu pick canines in their personal vehicle after becoming friendly with them.
"We initially used to take three-four dogs in our own vehicle. But it was not comfortable for them. So, now we hire a van to transport them to a renowned private clinic in Kharar," she said.
Diksha lives in Zirakpur but frequents her grandmother's house in Sector 34 where she, along with Anhad, a resident of Sector 16, started the initiative. Another volunteer Jairoop helps them.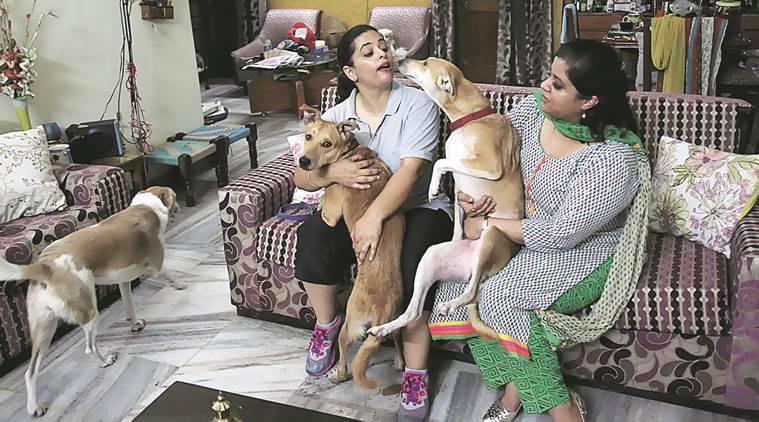 "Our aim is to first make Sector 34 a puppy-free zone, which implies their population will be stabilised and no new production will happen. We started with this sector as it has one of the biggest numbers of stray dog. About 50-60 per cent of the canines were already sterilised by the MC, but there were some cases where even neutered animals gave birth, may be due to
improper operation. In some cases, dogs were sterilised but their ears were not cropped and vice-versa," added Diksha. They were initially taking dogs for sterilisation to the Sector 38-based MC centre, but later the corporation refused to entertain them saying that they do not bring the canines properly.
It costs around Rs2,500-Rs3,500 to get a dog operated. Besides, expenses are incurred on their transportation to and fro the clinic. The duo arranges funds from NGOs and public. They have sterilised 40 dogs in Sector 34 and 25 in other parts of the city.
"The idea struck us at the nature trail behind Sukhna Lake where we used to regularly feed dogs. We saw the number of dogs increasing there at an alarming rate. It is a threat to the wildlife and we thought of controlling their count," says Anhad.
Unlike the MC team of dog catchers that comes with nets and other arrangements to catch strays, the duo becomes friendly with the canines or gain trust by offering them food or spending time with them, and later take them along for operation.
"Stray dog menace will not end as there is no nationwide effort towards it. We need intelligent feeding. Those feeding the dogs should also take an initiative to vaccinate and sterilise them," she suggested.
On the other hand, the civic body claimed to have sterilised about 20,000 dogs since 2015 when sterilisation was first started in the city. Interestingly, a census conducted by the UT Animal Husbandry Department in 2018 pegged the number of stray dogs at 12,920. The residents, however, do not feel much impact on ground. "I think no sterilisation is done. In our sector, the number of dogs is only increasing. What kind of sterilisation is this?" asked Ravi Kumar, a Sector 30 resident.
Walkers at Sukhna Lake rue that the packs of the dogs have increased there.