"She Come by It Natural" finds a feminist origin story in 1973, when Parton cut the cords between her and Wagoner. By then, Parton had recorded and released twenty-four studio albums: thirteen solo records, including "Coat of Many Colors," and eleven with Wagoner. That totalled about a hundred and fifty songs written by Parton for her own projects, another fifty featuring duos with Wagoner. After nine years of near-non-stop hustle in Nashville, seven by Wagoner's side, the "girl singer" on Wagoner's show had come to outshine her host.
By leaving, she entered the symbolic frequency shared by any woman who has broken free from a chauvinist, whether once tied by a ring, a child, or a contract. It's a story retold like myth. One day, Parton walked into Wagoner's office and sang him a song—a parting gift that turned out to be a gift to herself. He teared up and let her go, though not without a hell of a legal fight. The song was "I Will Always Love You," written the day before. ("Bittersweet memories / That is all I'm taking with me.") The same songwriting session also produced "Jolene," which reached No. 1 on the country-music charts, and so one legend curled into another.
While Parton played the less than dutiful li'l lady, the second wave of feminism was happening all around her. Smarsh imagines the Parton tour bus rolling past marches, sit-ins, and other signs of protest, the sexual revolution like one big orgy outside the window. Parton surely wasn't unaffected by the cultural politics of her times, stepping out from the shadows with songs like "Just Because I'm a Woman," "A Little at a Time," and "The Bargain Store." (The last was deemed overly risqué by a division of country radio that didn't like her beckoning listeners to "come inside" at any price.) But Smarsh doesn't pretend that Parton was ever a spokesperson for the movement. She was something more meaningful: not a mouthpiece but a model. And the chronology of Parton's life, regarded from a certain angle, can be seen to dovetail with the moments of the movement. She left her home town in 1964, the year that landmark legislation outlawing workplace discrimination on the basis of sex (among other protected categories) was enacted. She quit Wagoner in the year of Roe v. Wade. Her Hollywood début, in 1980, had her sharing the screen with two notorious women, Jane Fonda and Lily Tomlin, and involved a revenge fantasy against a piggish male boss. In all these syncopations, Smarsh hears the echoing footfalls of a woman walking her walk.
Parton never lost her ability to hear the beat, and to make something of it. In a delightful clip that has recently been making the rounds online, from an episode of the short-lived nineteen-eighties variety show "Dolly," Parton leads Patti LaBelle in "a little rhythm" sounded, washboard style, from the clacking of their acrylic nails. Wearing similar puff-sleeved, sparkling black gowns, the two luminaries briefly harmonize a rendition of "Shortnin' Bread," the slave folk song, before collapsing into giggles. The moment can feel silly, but no doubt Smarsh would see its serious feminine brilliance. Acrylic nails, disparaged when seen on the hands of performers like Parton or Cardi B, may very well be responsible for some spectacular feats of songwriting.
Not long after the success of "9 to 5," Parton became depressed and suicidal. This period coincided with demoralizing professional experiences—filming the 1982 movie "The Best Little Whorehouse in Texas," she was made to feel too fat for her role opposite Burt Reynolds—along with family problems and health issues. God pulled her up, with Parton's help. She trimmed her band and fired her accounting firm; she had a partial hysterectomy, after being diagnosed with endometriosis. And she cleared ground for her grandest vision yet, an amusement park of near-Disneyland proportions, situated right in Sevier County. The year Dollywood opened, 1986, she was voted into the Nashville Songwriters Hall of Fame. Whatever the ups and downs, the songs never ceased. "Even when I was sick, I was always writing," she recalls in a forthcoming songbook, co-written with Robert K. Oermann. "Yellow Roses," from her 1989 album "White Limozeen," released the same year that she had a featured role in "Steel Magnolias," became her tenth No. 1 hit of the decade, the fourth by her own pen—the yellow flower of her first romance has long since "turned to blue," but her love endures.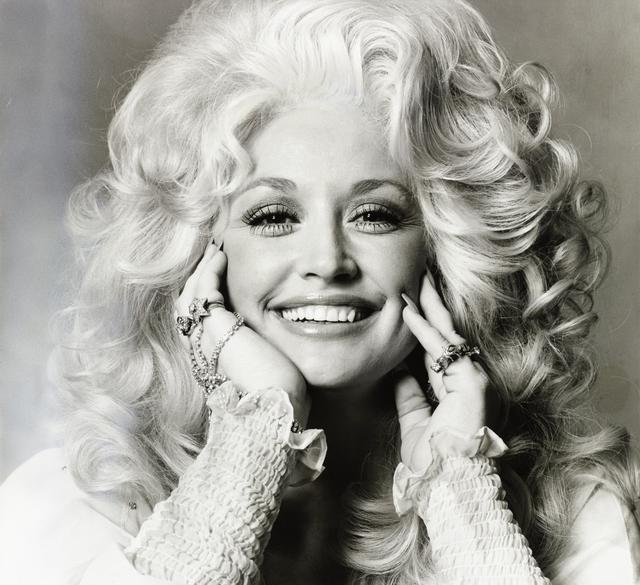 The eighties and nineties were a time for Parton to renegotiate the place of craft in fame. She moved from RCA to Columbia Records, sticking around for several albums—including "Honky Tonk Angels," with Loretta Lynn and Tammy Wynette—before switching labels again and starting her own, Blue Eye Records. (A second label, Dolly Records, was launched in 2007.) She gave mountain music the most earnest try of her career with her 1999 solo album, "The Grass Is Blue," a pared-down project that won the Grammy for Best Bluegrass Album, and its 2001 follow-up, "Little Sparrow." Fans had apparently been begging for these albums for years, she told Billboard in 1999. "Since I manage myself now and have my own label and can do what I want, why not do it?" she said. In 2005, when she recorded "Travelin' Thru," the theme song for "Transamerica," a film about a trans woman's drive across the country with her son, she courted controversy with a certain segment of her fan base, and received another Oscar nomination for Best Original Song.
From there came the career superbloom that we associate with multiplatinum artists who cagily mix business and art. With the help of a new manager, Parton reinvigorated the celebrity portion of her stardom with a good brand plan, harvesting a popularity that already stretched across the Atlantic. In 2014, she performed for a crowd of a hundred and eighty thousand at the annual Glastonbury Festival. After two decades as the co-owner of Sandollar Productions—with the TV series "Buffy the Vampire Slayer" among its credits—she founded Dixie Pixie Productions on her own. The company recently partnered with Warner Bros. to produce the eight-episode Netflix series "Dolly Parton's Heartstrings," telling the stories of Parton's songs and starring Julianne Hough and Kathleen Turner, along with Parton herself. She has written books and inspired books, and has a line of bakeware with Williams Sonoma. Proof that she can chart when she wants to is "Pure & Simple," which, in 2016, pushed aside the frattier Nashville sounds known to dominate the scene of late to become the No. 1 country album. Last fall, WNYC Studios released the podcast "Dolly Parton's America," featuring interviews with Parton and hosted by the Tennessee native Jad Abumrad, whose naïveté about Parton's widespread appeal provides the fertile ground for a Dolly-centric cultural history.
At the sixty-ninth Emmys, in 2017, Parton, Fonda, and Tomlin—all nominees that year—reunited onstage to present the award for Outstanding Supporting Actor in a Limited Series or Movie. Fonda and Tomlin, draped in red and black, took their swipes at an unnamed "sexist, egotistical, lying, hypocritical bigot." Parton, in the middle, cinched in white, joked about vibrators. "Hers was the least directly political comment of the three," Smarsh muses, but "the one most assured to vex a man like Donald Trump." In a TV interview following the awards, Parton stuck to her usual script: "I don't do politics. I'm an entertainer." Of course, as Smarsh remarks, "Parton hasn't gotten this far without knowing exactly what she's doing."
Yet even Parton, as Smarsh imagines it, has an adversary. Her adversary comes with pants suits and oxfords. She is educated, cool, urbane, fluent, and upper-middle class, contemptuous of a woman's right to red nails and fancy duds. Yes, she is a feminist, marching and theorizing, looking down her horn-rimmed glasses at frivolous femininity, high hair, and corsets and such. At least, that is how Smarsh sees her. But resentment has never been part of the Parton ensemble, and one can sometimes feel that Smarsh is enlisting her in a battle she's outlived.
Making reluctant feminists out of famous women tends to be a task more arduous than fruitful, but there's no doubt Smarsh knows her subject intimately. In May, interviewed as part of a Time 100 event, Parton relented at last. "I suppose I am a feminist if I believe that women should be able to do anything they want to," she said. That didn't move the dial half as much as an interview published months later, featuring Parton's support for the sentiment "Black lives matter."
The work continues—certainly more effectual, if not louder, than the sound bites. Whenever Parton has returned to her home town, it has had the gravitational effect of a super-massive star, reconfiguring its economic landscape with a fortune enabled by her leaving. Parton gives generously and with heart. There are the many nonprofits that receive aid through the Dollywood Foundation, a philanthropy that shares a Zip Code with the Dollywood theme park, which itself was an outsized act of charity for her home town. Its projects include a twenty-five-year-old book-gifting program dear to Parton's heart and an impromptu fund assisting families affected by the 2016 Smoky Mountain wildfires. At the time Smarsh wrote her book's preface, dated March of this year, Parton hadn't yet pledged anything toward the pandemic, but Smarsh was sure that she would, and Parton did—on April 2nd, she announced a donation of a million dollars to the Vanderbilt University Medical Center, for research into coronavirus treatments. All this could be feminism, or whatever Parton wants it to be—giving, giving back, walking in God's light. When she's fixing to change course, I trust she'll let us know. ♦