Share to Facebook
Share to Twitter
Share to Linkedin
...or you will lose your job and face various other recriminations.
Or at least that is what Daniel Hope would like to happen, if this following open letter is to be believed. But from the top:
Daniel Hope
© Nicolas_Zonvi
It appears that around the jolly Christmas season the young journalist and dramaturge Arno Lücker, along with co-conspirator Carlotta Joachim (a music student and a prize-winning junior musician and composer herself), put together a music video – a so called "shred," the kind of which exist about several of the greatest musicians with a YouTube presence (see one with Itzhak Perlman below) – in which they poked some fun at Daniel Hope and composer/pianist Ludovico Einaudi (already the subject of several such shreds).
It turns out that they poked at the wrong guy. Despite his carefully groomed public image as a cheery, genial multitalented classical musician with a decidedly hip edge, Daniel Hope released the hounds – in form of his lawyers. Cease and desist and threat of fine and all that good stuff. But it appears that this was not enough: For once Daniel Hope's wrath was incurred, he did not cease to throw around his weight with the employer of Arno Lücker, the Berliner Konzerthaus, until it told Lücker, a freelance at the Konzerthaus, that his services were no longer needed – despite the latter's immediately conciliatory reaction to the lawyers' demands and the plain obvious lack of malice of his satirical contribution to YouTube.
At least this is what we gather from the response of Moritz Eggert's, who – as a co-founder of the blog on which the video was published – was prompted to write an open letter to Daniel Hope, explaining the background, detailing the chain of events and Daniel Hope's reaction, and pleading reason. Eggert's letter is cited in full (in translation, with permission) below.
If this is in fact how matters transpired, it is a "[La] Reveal Magnifico" (as the NFL's Dan Hanzus would say) – a tearing away of the curtains of a superficial niceness, revealing the true character of those involved. Only it is very difficult to say who gets off worse, in this case, Daniel Hope or the Berliner Konzerthaus. The former seems to display a case of severe humorlessness, considerable insecurity, liberally spiced with a vengeful streak. Is it more revealing that he considered the shred legitimate criticism (which is to say: worth taking seriously and responding forcefully to) or how he responded thereafter? We know that he is not one who likes criticism of any kind other than the obsequious type (of which he gets plenty in the German and English press). In an article in the bilingual Van Magazine titled "Critic Bashing" he was called out for taking a dig at me, actually
[1]
, responding to my Forbes article "The Real Top 10 Bach Recordings" in a public Facebook comment by suggesting that "it demonstrates the egregious level to which certain internet music journalism has sunk."
But let us let Daniel Hope be Daniel Hope. His actions as detailed in Eggert's letter below speak for themselves... including those where he contacted the magazine for which Lücker also writes and tried to attack freedom of speech and the freedom of the press – which apparently is anyone's natural instinct these days, when reading something one doesn't like. (Incidentally, if you want to read something nice about Hope, his superb "Vivaldi / Four Seasons Recomposed" CD was one of my favorite releases in 2012.)
[
Edit Jan. 20th & 21st
: This article, as per the request of Andy Fixmer, Vice President, Global Communications of the Universal Music Group, to which Deutsche Grammophon belongs, has been further edited by deleting a previously included quote that came from the Van Magazine article
"
Who's Afraid of Daniel Hope
" by Jeffrey Arlo Brown and Harmtut Welscher and which has been claimed to be false.]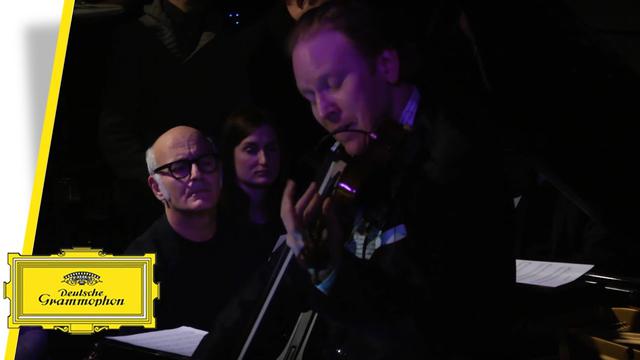 Not much less of a culprit, methinks, is the Berliner Konzerthaus, which allowed itself to be bullied into – or convinced of – or happily abetted – the
firing of one of their own employees
removing of an employee
[2]
because a thin-skinned diva said so. Rather than standing up for one of their own, they obsequiously went to sack the little, the expendable guy... in order not to incur the wrath of the locally very present and popular star violinist. Or to appease a close friend of the upper management, as it were... Whichever it is (see footnote), it's a PR disaster for the Berliner Konzerthaus, because even if the events did not transpire just like this, it certainly appears as though they sensed the threat of Hope's leverage and rushed to minimize economic damage for the apparently small prize of throwing integrity to the four winds. Even in the best case scenario they are playing the humor police to please a performer with whom they are close.
Hard to believe that at the source of this is an innocuous – juvenile or not – YouTube video and an insecure guy who can't take a joke. One of my favorite parts in Moritz Eggert's response – who outs himself as a true fan of Daniel Hope (recently praised by Peter Krause in Die Welt
[3]
for being a "clever music-communicator and reasonably decent violinist" – is this:
"[Levity] is so important [in classical music], since the cliché of classical music is rather one of thin-lipped humorlessness. Stern-looking busts peer down at us from uprights or auditoriums; drill is the first order... and the first hint of coughing and crinkling in a concert house must be suppressed at all cost. It can only be helpful for the occasional bit of laughter to break through this phalanx of seriousness... It is my sincere belief that the health of the musical scene can be measured to a large degree in how well it can take a joke; how well it deals with being poked fun at."
A lack of humor is one of the classical music business' more pressing problems, just after cowardice in all its many manifestations. This is an exemplary case in that it combines both – and yet there is hope. Hope that Hope admits a mistake and apologizes to Arno Lücker, and hope that the Konzerthaus realizes its even greater, downright toxic mistake of trying to attain a temporary benefit at the cost of something far more valuable and stands, belatedly, by their guy. It's not clear if that might not already have happened: The U.K. blogger Norman Lebrecht suggested, in a post in which he habitually got half his facts wrong, that he received the following statement from Daniel Hope:
Does this settle it (conveniently) after the ridding of pesky Mr. Lücker or does this indicate that Daniel Hope hopes-wishes-insists that Arno Lücker gets re-hired or had never been let go in the first place? Because if it doesn't, he is adding cynicism to vindictiveness.
P.S. Oh - and that video really needs to be uploaded again, because now we are curious!
P.P.S. As a musician friend e-mailed me a short while ago, alternatively this: The smartest thing [Daniel Hope] could do is apologize himself and collaborate on a really funny self-parody video shred. Something like a deliberate remake of this:
P.P.P.S. Was the shred made from this fascinating video?
[1]
Something I learned only from the article – but lo and behold, there, following the link, was Mr. Hope's comment, accusing me of being all-round mean to him only to then suggest, grandly, that that was all perfectly alright... he had only come to don his white knight's armor and defend, by way of insult, the allegedly besmirched honor of previous violin-greats Itzhak Perlman and Pinchas Zukerman.
[2]
On Moritz Eggert's blog the Intendant of the Berliner Konzerthaus Sebastian Nordmann had a statement published in the comments: "The impression has arisen that we have fired Arno Lücker from the KonzerthausThat is not the case. Arno Lücker moderates a concert series "2 x hören" five times a year as a free-lancer. I have merely decided that he will not return as a moderator next season. What concerned me was not the "shred" as such, but the dubbed text in the preceding speech which was laced with sexual phrases which I found to be insulting and lacking respect. This type of "humor" is not compatible with the duties of a moderator who also works at the Konzerthaus."
[3]
"Aber zu den wirklich bewegenden und nachwirkenden Momenten des zeitversetzt und leicht gekürzt im ZDF übertragenen Abends gehörte weder der kurze Auftritt des attraktiven Münchners [Jonas Kaufmann] noch jener des geschickten Musikvermittlers, aber mittelprächtigen Geigers Daniel Hope, der in der etwas schummrigen Kategorie 'Klassik ohne Grenzen' mal wieder einen Echo mit nach Hause schleppte und den ersten Satz aus dem Winter von Vivaldis 'Vier Jahreszeiten' vortrug."
[This Article has been edited on January 19th, 20th and 21st to reflect details reported in Van Magazine's article "Who's Afraid of Daniel Hope". It has been further edited to reflect the statement from Deutsche Grammophon about Clemens Trautmann's non-involvement in this affair.]