Boris Johnson says early results look 'very encouraging'
Sign up to receive our rundown of the day's
top stories
direct to your inbox
Invalid email
We use your sign-up to provide content in ways you've consented to and to improve our understanding of you. This may include adverts from us and 3rd parties based on our understanding. You can unsubscribe at any time. More info
The party leader said following the disastrous results that he took "full responsibility" for the drubbing.
But Labour insiders on the right and left are now asking questions about his electability after the performance.
Despite opposition parties normally performing well in local elections, Labour lost control of seven councils while the Tories gained 12.
The pressure comes as Sir Keir prepares to carry out an urgent reshuffle today in an apparent attempt to deflect attention from his failings.
It comes after he sacked Angela Rayner as national campaign co-ordinator and party chair. She will remain as the party's deputy leader as that is an elected position.
Greater Manchester's Labour Mayor Andy Burnham warned Sir Keir it was "wrong" to oust Ms Rayner from her posts, adding: "I can't support this." And former shadow chancellor John McDonnell called her firing a "huge mistake".
The Labour Party has suffered heavy defeats in the local elections
(Image: GETTY)
Now one Labour MP has broken ranks to publicly not rule out a leadership challenge.
Jon Trickett, MP for Hemsworth, told Owen Jones' YouTube channel that many people didn't find Sir Keir "trustworthy".
He added: "Now if it comes to the question of whether there should be a leadership challenge I don't think we should rule it out.
"I don't think we should rule it out for several reasons but perhaps the most important one which you have just touched on.
"That a leader who has won the vote on the back of promises that were then reneged on - some of them quite quickly - needs to come clean.
"And I want to hear what he says. I want to hear what the party membership says. But I think we should be prepared for further developments."
FOLLOW BELOW FOR LIVE UPDATES...
2.44pm update: 'Boris did it so why can't we' Blackford says Scots have more right to IndyRef than Brexit
Ian Blackford said Scotland now has a greater mandate for a second independence referendum than Boris did to deliver Brexit in a desperate defence of the SNP's master plan.
SNP Westminster leader Ian Blackford told LBC earlier that if Boris Johnson was allowed to get Brexit done on a smaller majority than the current SNP majority, why can't Scotland have a referendum.
The Scot slammed the PM arguing "nobody doubted" that Boris "had the right to deliver Brexit" with a vote share of 43.5 percent at the 2019 General Election.
He went on to argue the SNP have "just won this election" despite the SNP not winning a majority in Scotland, later adding there was now a "pro-independence majority" in the Scottish parliament which gives Scotland a mandate for IndyRef2.
2.18pm update: Could Sturgeon join forces with Macron? SNP's new plot to 'humiliate' Boris exposed
Nicola Sturgeon looks set to strike key alliances with EU countries in the coming months as the SNP steps up its campaign to "humiliate and embarrass" Boris Johnson into holding a second independence referendum.
Nicola Sturgeon looks set to exploit the current tension between the EU and the UK by lobbying European countries to back Scottish independence.
ITV's UK Editor Paul Brand revealed that SNP's next step in its independence bid, in the wake of its electoral triumph, is to launch an international lobbying mission.
SNP figures will urge European governments to support their argument as a way to embarrass and humiliate the UK Government into giving way.
1.45pm update: Diane Abbott claims Labour's way to power is 'building on' Corbyn's 'popular' 2019 pledges
Diane Abbott has bizarrely claimed Labour's election drubbing was because Sir Keir Starmer failed to build on Jeremy Corbyn's "forward-thinking and popular" 2019 manifesto - despite a disastrous election for the party that year.
The former shadow home secretary, notorious for her gaffes, completely ignored the fact that the result was the worst Labour experienced in decades.
Instead she claimed the current Labour leader's attempt to make his party electable again following five years under Mr Corbyn was the precise reason he failed.
A wiser option would have been to stick stubbornly to Mr Corbyn's hard-left mantra because it was "popular" with voters, she claimed.
She told Sophy Ridge on Sunday: "I think we need to be building on the policies in the 2019 manifesto, many of which were forward-thinking and popular.
"We need to get the strategy right."
(Image: )
1.15pm update: Labour POLL: Should Keir Starmer resign after party's election humiliation? VOTE
Labour is reeling from the party's dismal election performance and its leadership is scrambling to reshuffle the shadow cabinet in a bid to make amends.
But rather than making changes, should Sir Keir Starmer just resign? Vote in our poll below.
The Labour leader has drawn widespread criticism for sacking Angela Rayner as the party's chair and national campaign manager. Critics have argued Sir Keir has made Ms Rayner a "scapegoat" amid the opposition party's failure to appeal to voters.
Labour suffered a string of humiliating defeats in the "Super Thursday" ballots, including the loss of the Hartlepool constituency in a by-election.
12.32pm update: Odds slashed on Keir Starmer being replaced as Labour leader
The odds of Keir Starmer being replaced following Labour's woeful election performance are rapidly increasing, according to bookmakers.
Ladbrokes told Express.co.uk that it had seen "massive moment" on betting for Greater Manchester mayor Andy Burnham to become Labour's next leader.
His odds on replacing Mr Starmer has fallen to just 7/2 from 5/1 last night.
Alex Apati, of Ladbrokes, said: "We've seen significant interest in Andy Burnham over the past few days and the Mayor of Manchester's odds of replacing Keir Starmer as Labour leader are at record lows."
11.58am update: Andrew Neil brilliantly explains Labour's election woes 'rules being radically rewritten'
Andrew Neil has brilliantly exposed why Keir Starmer's Labour Party performed so badly in Thursday's elections.
The chairman of GB News highlighted the paradigm shift that has happened in English politics over recent years.
Pointing out how well the Tories - who have been in power for 11 years - performed in comparison to Labour, Mr Neil labelled it a "watershed" moment.
The 71-year-old veteran broadcaster wrote on Twitter: "What's happening in English politics is unique: it's a watershed, with rules being radically rewritten, not because an insurgent party is successfully challenging an unpopular incumbent (that happens) but because a popular incumbent is savaging an unpopular opposition."
He later tweeted commentary from the Wall Street Journal on the election results.
11.40 update: Starmer issued ultimatum over humiliating Labour election - 'He has little choice'
Keir Starmer has "little real choice" but to try and reconnect Labour with its once-loyal working class supporters that have deserted it in recent years, Peter Mandelson has warned.
The New Labour architect argued that should the party ever want to regain power, Mr Starmer needs to win back the "respectable working class voters who gave New Labour its majorities".
He also warned Mr Starmer "can have change or he can have unity but not both".
His comments come after the party lost key Labour heartland Hartlepool and scores of seats to the Tories in Thursday's elections.
New Labour tsar Peter Mandelson
(Image: Getty)
10.56am update: Humiliated Starmer to hold urgent shadow cabinet reshuffle TODAY after election disaster
Sir Keir Starmer will carry out a reshuffle of his shadow cabinet today following the damning election result for his party.
The Labour leader has sprung into damage control mode after the oppposition party received a drubbing in some parts of the country. Labour lost control of a host of councils and was battered by the Tories in the Hartlepool by-election - the first time the North East constituency elected a Conservative MP since its inception in the 1970s.
Sir Keir's urgent reshuffle comes after he sacked Angela Rayner as national campaign co-ordinator and party chair.
However, she will remain as the party's deputy leader as that is an elected position.
Greater Manchester 's Labour Mayor Andy Burnham warned Sir Keir it was "wrong" to oust Ms Rayner from her posts, adding: "I can't support this."
And former shadow chancellor John McDonnell called her firing a "huge mistake".
Nadia Whittome, Labour MP for Nottingham East, lashed out at Sir Keir in a tweet, calling his move a "dreadful way" to treat the party's most senior woman.
10.11am update: BBC Breakfast row: Chris Mason brilliantly picks apart SNP's independence demands
A BBC Breakfast interview with the SNP this morning saw host Chris Mason clash with an MSP over independence plans after Nicola Sturgeon pledged to press ahead with plans for a second referendum.
Nicola Sturgeon has pledged to press ahead with plans for a second independence referendum in the wake of this week's elections. However, BBC Breakfast host Chris Mason rebuked this plan on TV this morning during an interview with SNP MSP Neil Gray.
He said that not only would Boris Johnson not grant a referendum but that the SNP will struggle to convince people that independence "is better than what they have right now".
The BBC Breakfast host and political correspondent for BBC News said: "Let's look at the specifics of the here and now.
"According to the tax authorities, a third of a million people in Scotland were on furlough at the end of January this year. That is a scheme run by the government in Westminster."
10.43am update: Gove savages Sturgeon's Indy demands 'Most voted for parties OPPOSED to referendum!'
Michael Gove has slammed Nicola Sturgeon's demands for a second independence referendum as he outlined Scottish voters oppose independence.
Cabinet Office minister Michael Gove dismissed Nicola Sturgeon's plans for Scottish independence as he insisted Scottish constituencies voted against holding another referendum.
The SNP fell one seat short of an overall majority in the Scottish parliament elections, securing 64 seats, but the final result still leaves Holyrood with a pro-independence majority. Boris Johnson has invited Ms Sturgeon for crisis talks on the Union.
Speaking to BBC's Andrew Marr show, Mr Gove said: "When Nicola was asked during the campaign about Scotland's drug deaths she said that the Scottish Government had taken their eye off the ball on this issue."
John McDonnell savaged Keir Starmer
(Image: Getty)
9.45am update: McDonnell explodes at Starmer for being influenced by Mandelson - Labour war erupts
John McDonnell unleashed a furious attack on Starmer for allowing New Labour figure Peter Mandelson to influence the Labour Party.
Former Shadow Chancellor and Corbyn loyalist John McDonnell lambasted Sir Keir Starmer for allowing Labour to be too influenced by Peter Mandelson.
In a furious tirade on BBC Andrew Marr show earlier Mr McDonnell unleashed a volley of criticism at Sir Keir following Labour's disastrous election results. He demanded "commitment to solidarity" and urged Starmer to bin Mandelson's advice.
The former shadow chancellor said: "He (Starmer) did say he would build on the policy framework we set out and he hasn't!
"You can't send candidates naked into the field like that without any policy. I don't get into who's best in any position or anything like that."
9.38am update: Sophy Ridge bursts out laughing after Labour frontbencher claims election shows 'progress'
Sky News' Sophy Ridge burst out laughing after a senior Labour frontbencher claimed that this week's election results showed the party was making "progress".
Labour frontbencher Ian Murray was ridiculed by Sky News political host Sophy Ridge after he suggested that this week's election results showed "progress" for the party.
Ms Ridge reeled off a list of humiliating election losses for Labour, as infighting erupts inside the party. She told Mr Murray that the party "doesn't have a grip on what is going on here" after a set of catastrophic results across the country.
The Labour MP told Sky News: "We are making progress but it's not fast enough.
"Nobody is taking away the significance of the losses but we have a lot of speeding up to do."
Ms Ridge responded: "Sorry you said you had good election results in some parts of the country but you are down seven councils in England. In what world is this making progress?
"Other than Wales where are you making progress? Overall you are going backwards!"
9.15am update:
Diane Abbott rages at Keir Starmer for sacking Angela Rayner 'It's baffling!'
Diane Abbott hit out at Keir Starmer for sacking Angela Rayner from her role as chairman of the Labour Party.
The former Shadow Home Secretary criticised Sir Keir Starmer after deputy Labour leader Angela Rayner was sacked on Saturday from her role as chairman and national campaign coordinator.
It comes after the Opposition outfit lost the Hartlepool by-election - with the North East town voting for a Tory MP for the first time in 60 years - and incurring a net loss of six councils and more than 200 seats in the local elections as voters in its traditional heartlands deserted the party.
Speaking to Sophy Ridge on Sky News, Ms Abbott said: "I think it's baffling why he sacked Angela Rayner.
Former Shadow Home Secretary Diane Abbott
(Image: Getty)
8.38am update: Michael Gove refuses to rule out blocking second Scottish independence referendum
Michael Gove this morning refused several times to rule out blocking any SNP attempt to hold a second referendum on Scottish independence.
The cabinet minister told Sophy Ridge on Sunday that most Scots did not want a "protracted debate on the constitution" as the country emerges from the coronavirus pandemic.
He added that he was "not interested in going down that blind alley" when asked again about Indyref2.
When asked if there were any circumstances in which Boris Johnson would grant a second vote, he replied: "It's not an issue for the moment."
8.23am update: Keir Starmer must listen to voters, not Labour factions - Peter Mandelson
New Labour architect Peter Mandelson has urged Keir Starmer to listen to voters, not party factions after Labour's election drubbing.
The former cabinet minister wrote in the FT: "Having taken the wrong path after the 2010 defeat, Starmer has clearly begun Labour's course correction but he wants to change the party without disturbing the coalition he originally created to win the leadership.
"The problem is that many of his supporters, and many of the fellow travellers who hitched themselves to the party when Corbyn was leader, say they want change while leaving everything the same.
"This goes to the heart of Starmer's dilemma. He can have change or he can have unity but not both. If Starmer wants to lead Labour into government, he has little real choice."
7.47am update: 'RIP London!' Sadiq Khan re-election sparks backlash - calls to tackle knife crime plague
Sadiq Khan re-election as Mayor of London has prompted backlash from angry Londoners.
Mr Khan has been repeatedly criticised for crime rates across the capital, most recently by journalist Dan Wootton in a stinging column for Mail Online.
He summed up the views of many, writing: "The quality of life in the world's greatest city has been decimated these past five years and it's impossible to cry foul any longer when it's referred to as Lawless London."
7.23am update: Keir Starmer using Angela Rayner as "scapegoat" for election failures
Keir Starmer has been accused of making his deputy Angela Rayner the scapegoat for Labour's election meltdown.
Despite taking "full responsbility" for Labour's drubbing, he sacked her as party chairman and campaign co-ordinator yesterday.
Labour last night said Ms Rayner, who remains the party's directly elected deputy leader, would "continue to play a senior role in Keir's team".
But in a sign she was taking the blame for last week's results, a party source said Labour had to "change how we run our campaigns in the future".
Ms Rayner declined to comment last night, but former Shadow Chancellor John McDonnell told the Mail On Sunday that her sacking was a "cowardly avoidance of responsibility".
He added: "He's scapegoating everyone apart from himself."
7am update: Oliver Pritchard-Jones is taking over the live election blog
The Labour leader has been accused of "scapegoating" Ms Rayner
(Image: Getty)
06:29am update: 'Poor communicator' Starmer not making enough progress - COMMENT
In a comment made by The Observer on Labour's performance in last week's elections, the editorial warned 'Labour could have further to fall'
It read: "It is early days, but Starmer has not made enough progress in edging Labour back to electability.
"Starmer appears to be a poor communicator who lacks an instinctive touch; the same can be said for too many of his top team."
05:27am update: Burnham bookies favourite to replace Starmer after results humiliation
Andy Burnham is being touted to replace Sir Keir Starmer as Labour leader amid the disastrous election results on Super Thursday.
The Mayor of Greater Manchester, dubbed "King of the North", was re-elected in a major landslide victory on Saturday, gaining 67.3 percent of the votes. The bookies have now placed Mr Burnham ahead of shadow cabinet minister Lisa Nandy with 6/1 odds on the Greater Manchester Mayor.
Asked on Sky News whether he wanted to lead the Labour Party, Mr Burnham said: "I've been elected as mayor of Greater Manchester – that is where my focus is.
"In the distant future, if the party were ever to feel it needed me, well I'm here and they should get in touch."
05:24am update: 131 of 143 councils declared
Most of the results have been declared now across the UK.
More than 300 seats have been lost for Labour, putting massive dents in the "red wall".
The Conservatives have gained 237 seats over this election and now control 57 councils - a net gain of 11.
Labout have control of 44 councils are have a net loss of control of seven authorities.
04:05am update: Labour gain Metro Mayor position for West of England from Tories
Labour have gained the Metro Mayor position dor the West of England from the Conservatives.
MP Dan Norris, a former government minister won in a second preference vote run-off against Conservative rival, Samuel Williams.
He said: "It's a huge honour to be elected as Metro Mayor for an amazing part of the world that I am so proud to call home.
"I'm determined to hit the ground running with a Jobs and Skills summit in my first 100 days and my Green Recovery Plan."
Dan Norris gains Metro Mayor from Tories
(Image: Getty Images)
03:00am update: Labour civil war over Rayner sacking
Labour has been plunged into civil war tonight, with Sir Keir Starmer's sacking of Angela Rayner as party chair sparking widespread shock and disbelief.
The deputy leader has been relieved of some of her responsibilities as a vicious blame game breaks out over Labour's disastrous results in Hartlepool and local council elections.
Ms Rayner had been responsible for the party's local election campaign but Sir Keir Starmer yesterday said he took responsibility for the poor results.
02:05am update: Boris Johnson promises jobs in red wall areas
Boris Johnson will promise to provide more jobs and skills to red wall areas in a bid to 'live local and prosper', The Daily Mail reports.
In plans to be outlined in the Queen's speech, the PM will pledge to revive areas that have been neglected by the Government.
He will also outline plans to tackle the NHS backlog caused by the coronavirus pandemic.
01:25am update: Keir Starmer is a 'dead man walking', senior figures have claimed
Senior figures have called Keir Starmer a dead man walking after the disastrous Super Thursday election results, The Sun has reported.
Boris Johnson took chunks out of Labour's "red wall" during the historic election as he looks to be eyeing up a decade as PM.
A shadow Cabinet source said: "The leadership has gone into a bunker.
"He [Starmer] came in with a lot of goodwill but now he's squandered it."
12:27am update: Andy Burnham 'can't support' axing Angela Rayner as Labour chairwoman
Sir Keir Starmer has removed Angela Rayner as party chairwoman and is likely to sack Anneliese Dodds, the shadow chacellor, according to The Times.
The deputy leader was axed from the role of Labour chairwoman after a face-to-face meeting with Sir Starmer at the Party's HQ in Westminster after reportedly failing to deliver a strategy for the elections.
Shortly after the decision, Andy Burnham, Labour Mayor of Greater Manchester tweeted: "I can't support this."
Ms Rayner, is the first casualty of Starmer's shadow reshuffle but will remain in her position as deputy leader.
Angela Rayner removed as Party chairwoman
(Image: Getty Images )
11:30pm update: Sadiq Khan re-elected Mayor of London
Sadiq Khan has been re-elected as Mayor of London after a close-run electoral race with Conservative rival Shaun Bailey.
Mr Khan gained 55.2% of the vote compared to 44.8% for Mr Bailey.
Voter turnout was just 42.2%.
Oliver Trapnell takes over from Rachel Russell
9.22pm update: Owen Jones turns on Labour for 'lacking in basic vision' as he bashes election washout
Owen Jones delivered a furious rant against the Labour party which he accused of "lacking in basic vision" as he broke down why they had performed so badly in the recent elections.
Mr Jones explained voters did not know what the opposition party stood for anymore and argued Labour were unlikely to know what to do with the power if they secured it due to lack of direction.
The passionate and damning evaluation of the Labour party was accompanied by a respectful nod to the Conservative party who were capitalising on the chaos within their main opposition.
Speaking to BBC News about the damning election results, Mr Jones said: "Never in recent times has Labour gone into elections so lacking in a basic vision.
"I was up in Hartlepool, but this has been corroborated by reports across the country, people don't know what Labour stands for anymore.
"Keir Starmer's whole approach and his whole team were to define themselves against the predecessor, Jeremy Corbyn, and Boris Johnson - but without defining what he actually stands for.
"And there's been a complete vacuum left by the Labour party when it comes to policy or vision, what would Labour actually do with political power?
"That's not a question, I'm afraid, that voters can answer, I don't think it's one that they can answer either."
8pm update: London mayoral election results are delayed
London's next mayor will be declared at around 10pm on Saturday night, officials at City Hall have confirmed, with London Assembly results to followshortly afterwards.
7.53pm update: Labour 'blame game' erupts as sacked Angela Rayner 'behind' Hartlepool's election loss
Sky News Deputy Political Editor, Sam Coates, revealed a "blame game" was ongoing in the Labour party with some critics pointing the finger at Angela Rayner after the Hartlepool by-election disaster.
Insiders state her lack of commitment - with one telling Mr Coates she only visited 22 locations during the campaign - as being behind the Labour loss and therefore the reason for her sacking.
Labour insiders state there will be a policy rethink and a potential frontbench reshuffle following the "Super Thursday" elections which saw Labour losing several safe seats.
Mr Coates told Sky News Ms Rayner has been sacked by Sir Keir and quipped the news travelled so quickly the news of the sacking reached newsrooms before the meeting ended.
He told Sky News: "Deputy heads should roll it appears, just a day after Keir Starmer told the TV cameras that he takes full responsibility for Labour's defeat in the election.
"There appears to be a bitter blame game underway with people attacking Keir Starmer's office for the decision.
"Things are so fast-moving that news of her people being removed appeared to seep out before the event had concluded."
Angela Rayner 'facing backlash' over Labour losses says expert
6.06pm update:
Labour loses control of Southampton City Council to the Conservatives after nine years at the helm
A third of the unitary authority's 48 seats were up for grabs this election, with the Tories making gains at Labour's expense in a straight red/blue fight.
Speaking after the results, Daniel Fitzhenry, leader of the council's Conservative Group, said: "Without doubt, people in Southampton are very grateful for the support they have received from the Government during the pandemic.
"And they are fed up with Labour and want to get Southampton moving, they want a positive, can-do attitude to get things done."
Labour has been in control at Southampton City Council, which delivers services for more than 250,000 people, since 2012.
5.43pm update: More results are announced in West Midlands
Vote totals for Coventry, the first of the West Midlands' seven council areas to declare second preference results, showed Labour's Liam Byrne with 3,585 further votes, compared to 2,111 for Andy Street.
Facing a 55,309-vote deficit from the first round, Mr Byrne only pulled back around 600 votes in Wolverhampton, about 300 in Walsall, and approximately 5,000 in Birmingham, meaning Mr Street is certain to be re-elected as the region's mayor.
4.37pm update: Tories hit with another blow in West of England
Labour candidate Dan Norris has been elected West of England mayor, beating Conservative candidate Samuel Williams.
Mr Norris said: "It's a huge honour to be elected. Thank you.
"I will show the difference an active metro mayor makes for our region. This role is about collaboration and I'll listen carefully and work co-operatively."
He added: "I'll hit the ground running with a Jobs & Skills summit in my first 100 days and launch my Green Recovery Plan.
"As we build back from the pandemic, invest in jobs and our high streets, let's create a society where we keep looking out for each other and value what's truly important."
4.30pm update: SNP loses crucial seat to Tories - but results of Scottish election still too close to call
The SNP failed to gain the Aberdeenshire West constituency from the Scottish Conservatives.
Winning the seat has been seen as being key for Nicola Sturgeon's party gaining an overall majority in the Scottish Parliament.
But Conservative Alexander Burnett held on to the seat with 19,709 votes, increasing his majority there and defeating Fergus Mutch, who polled 16,319 for the SNP.
The SNP continues to lead the Holyrood elections, but it is still not clear if they will win an overall majority.
Nicola Sturgeon's party gained three seats during the count on Friday - the only party to take a constituency from another - winning Ayr, Edinburgh Central and East Lothian.
4.15pm update: Andy Burnham wins Great Manchester election
Mr Burnham secured a rare victory for Labour as he was re-elected Mayor of Greater Manchester with 473,024 votes.
Tory Laura Evans came second with 113,753 votes.
3.35pm update: West Midlands mayoral election: Andy Street so close to first round win
The first count declaration showed Mr Byrne had 244,009 votes while Mr Street got 299,318 votes. It will now go to a second round.
Sky's Sophy Ridge tweeted: "The West Mids mayoral race has gone to the second round, but Liam Byrne would need to pick up almost every second pref vote from the Greens & Lib Dems in order to win.
"First round: Andy Street - 48.7 percent Liam Byrne - 39.7 percent"
Boris Johnson and Carrie Symonds after voting on Thursday
(Image: GETTY)
2.50 pm update: Nicola Sturgeon has 'responsibility to get indyref2, Alex Salmond has said
Alex Salmond has said: "I know that the SNP have been a little bit nervous, sending people letters saying if they are associated with Alba they might be disciplined by the SNP, or all sorts of things.
"But I put that down to over-enthusiasm of some people who just joined the SNP and are perhaps not aware of the politeness with which the SNP normally conducts its operations."
2.45 pm update: The West Midlands Mayoral election first preference tally has come in for Birmingham
One of seven councils areas in the region showed that Labour's Liam Byrne leading Tory Andy Street by 102,276 votes to 84,817.
On Twitter, Sunday Times journalist Hannah Al-Othman said: "Not looking good for Labour in the West Mids.
"Andy Street has increased his majority in Walsall by more than 8,000 first preference votes.
"And he's won by almost 3,000 votes in Wolverhampton Labour took that one last time with a majority of more than 4,000."
2.20 pm update: Labour has won the Welsh election with 30 seats
Mark Labour's Drakeford remaining in place as First Minister.
This is in stark contrast to the Labour party's performance in England.
In Thursday's elections, Labour has equalled its best-ever Senedd result in Wales.
The party has won 30 seats, just one short of a majority.
Mr Drakeford has stated he will be "radical" and "ambitious" in forming the new government for Wales.
2.15 pm update: SNP have held on to Perthshire South and Kinross-shire
SNP politician Jim Fairlie has won Perthshire South and Kinross-shire for the SNP, in a blow to the Scottish Conservatives.
Mr Fairlie increased the SNP majority to 1,848.
2.00 pm update: The Labour Party's Steve Rotheram has been re-elected for a second term as Liverpool City mayor.
Labour's Steve Rotheram has been re-elected for a second term as the major for the Liverpool City region, as he comfortably defeated his rivals in the contest.
1.15 pm update: Labour Leader Keir Starmer urged to 'consider his position'.
Labour peer Lord Adonis has spoken to LBC and said: "Keir clearly needs to consider his position because the results were a catastrophe."
"It's no good saying that we need better policies or we need to appeal to the red wall or whatever unless you yourself are an appealing leader who excites people's hearts and minds.
"We've got to have somebody who appeals more to the political centre-ground than Boris Johnson does."
11.45 am update: Scotland will 'not be abandoned by the EU' if Sturgeon demands second independence vote, claims expert
Nicola Sturgeon could appeal to the EU if Boris Johnson refuses to allow a second Scottish independence referendum, as "Scotland is now viewed as a country loyal to the EU that should not be abandoned" an expert has claimed.
11.30 am update: In the count so far the SNP have taken 40 seats in Scottish Parliament elections, Labour down one seat and Conservatives down two seats
The SNP and the Scottish Greens, who are also pro-independence, are looking likely to win a majority of seats.
Nicola Sturgeon has claimed this will give her the mandate to press for a second referendum on independence.
10.30 am update: BBC Breakfast's Naga Munchetty has disputed SNP claims that the election results justified an independence referendum.
The BBC host pointed out that Nicola Sturgeon had "failed" to secure key seats.
BBC Breakfast host Naga Munchetty clashed with the SNP's Deputy First Minister John Swinney over the party's hopes for an independence referendum.
Ms Munchetty pointed out that the SNP "had failed" to win two key target seats following Thursday's election.
She disputed Mr Swinney's claims that Scottish voters had delivered an "emphatic victory" in support of independence.
The Conservative Party has made gains in England
(Image: GETTY)
10.00 am update: London mayor Sadiq Khan edges back on top after 'down to the wire' count.
Sadiq Khan has now widened his short lead against Tory rival Shaun Bailey, but the final result is "too close to call".
9.00 am update: West Midlands mayor could to begin as the Conservative Party sees gains across the region.
Incumbent Andy Street, the first West Midlands elected mayor, faces competition from Labour's Liam Byrne, Jenny Wilkinson from the Liberal Democrats, Pete Durnell from Reform UK and Green candidate Steve Caudwell.
It comes after the Conservatives have made massive ground in elections across the region.
8.15 am update: Boris Johnson insists there will be no new Scottish independence referendum.
Mr Johnson in the Daily Telegraph said "it's irresponsible and reckless".
He has insisted there should not be another Scottish independence referendum as now is not the time "to be talking about ripping our country apart".
He said: "I listened to the Scottish election carefully.
"My impression was that the SNP moved away from the idea of a referendum, and I think very wisely.
"Because I don't think this is anything like the time to have more constitutional wrangling, to be talking about ripping our country apart, when actually people want to heal our economy and bounce forward together. That's what people want."
7.30 am update: The Green Party has elected councillors in four new councils.
The Green Party now has councillors in Northumberland, Stockport, Hastings and Derbyshire.
The Green Party MP Caroline Lucas said it felt like a "green spring is happening".
7.10 am update: The Conservative Party has kept the Tees Valley mayoralty.
The combined authority area of Tees Valley was once considered a Labour stronghold.
Now Tory mayor Ben Houchen has increased his share of the vote to 73 percent.
05:02am update: London Mayoral race 'will be close'
Speaking on the London Mayoral elections, a Labour source said: "We think it will be close.
"There is no chance of winning on the first round"
"We are definitely seeing the product of lower turnout and complacency from voters who believed it was safe to put a candidate from a smaller party as first preference."
Prime Minister Boris Johnson
(Image: GETTY)
04:15am update: Boris Johnson spoke in Hartlepool on Friday
Boris Johnson visited Hartlepool on Friday to thank voters and congratulate Jill Mortimer on a successful campagin.
He said: The lesson out of this whole election campaign across the UK is that the public want politicians to get on with focusing on their needs and their priorities.
"Here in Hartlepool, this is a place that voted for Brexit and we got Brexit done and then we're able to do other things thanks to that."
03:15am update: Boris Johnson 'eyes decade in power'
Boris Johnson is eyeing a decade in power according to The Times' Saturday front page.
Following the Conservatives positive results at the 'super Thursday' elections, Boris Johnson is expected to make a speech outlining his 'levelling up' agenda.
According to The Times, ministers beleive he might stay in power even longer than Margaret Thatcher, who was in Downing Street for 11 years.
02:30am update: Dominic Cummings roasts Keir Starmer and Boris Johnson
Mr Cummings said he believes Labour would "win the next election easy" with the right conditions.
Mr Cummings tweeted: "If LAB had a leader 80% as good at comms as Blair + focused on Actual Reality, they'd win next GE easy."
But he claimed the party either "don't or won't" so it is "impossible now to be confident re what will happen, both parties cd easily be hated/held in contempt at same time [sic]".
In his string of tweets, Mr Cummings also lashed out at Mr Johnson's Downing Street operation.
He wrote: "We have a No10 & Opposition who see their job as Media Entertainment Service.
"Neither will try to be... a government."
Dominic Cummings takes shots at Keir Starmer and Boris Johnson
(Image: Getty Images)
01:40am update: Labour control half of Welsh Parliament
Labour currently has half of the 60 seats in Welsh parliament
Labour has exactly 30 of the 60 seats in the Senedd, equalling its best ever results.
The Tories control 12, Plaid Cymru picking up nine and the Liberal Democrats one.
The final results still to come.
12:59am update: Labour's shadow defence ministry quits 'woke' Starmer's frontbench
Labour MP Khalid Mahmood has quit Keir Starmer's frontbench.
Labour sources said Mr Mahmood had left the frontbench some weeks ago, but no announcement was made.
Mr Mahmood explained that the Labour Party had "lost touch with ordinary British people".
He added that it had been taken over by "a London-based bourgeoisie, with the support of brigades of woke social media warriors".
12:35am update: Keir Starmer hits out at own MPs after yesterday's embarrasing results
Sir Keir Starmer has hit out at his own MPs for "quarrelling amongst themselves" as he reflected on Labour's embarrassing results run from yesterday's elections.
He said: "It means stopping as a party quarrelling among ourselves, looking internally and facing the country and setting out that bold vision for a better Britain and changing the things that need changing.
"That is the change I will bring about."
Keir Starmer hits out at own MPs after yesterday's embarrassing results
(Image: Getty Images)
11:46pm update: Labour's shadow business minister claims Tories 'parked their tanks all over our lawn' in damning election assessment
Lucy Powell, Labour's shadow business minister, has given a damning assessment of Thursday's election results.
Speaking on BBC Newsnight, Ms Powell claimed that Labour's 'red wall' had been crumbling for "20 years".
She said: "[The] people of Hartlepool and elsewhere are voting for change.
"We have been talking to ourselves too much... people want decent, secure jobs, close to their homes.
"We do need a new reckoning on the economy, we need an economy which works for everyone all over the country.
"We're facing a Conservative party which has parked their tanks all over our lawn."
11:15pm update: Labour extends lead over Tories in Wales
The Welsh Labour party has extended its lead over the conservative Party according to Sky News' Ed Conway.
Although there ares still many more votes to be countedm the election story inn Wales is looking very different compared to that of England.
10:50pm update: London Mayor election tighter than expected
7 out of 14 London consituencies have already declared in the London Mayoral election, with Sadiq Khan barely ahead with 39% of first preference votes.
His main rival in the race, Shaun Bailey currently has 37% after leading in Bexley and Bromley, Brent and Harrow, Ealing and Hillingdon, Havering and Redbridge, and West Central.
Mr Khan who has been in office since 2016, led in the remaining constituencies of Lambeth and Southwark, and the North East constituency.
The seven other constituencies are due to declare on Saturday.
10:15pm update: Labour doing well in Wales as party hold Cardiff West
Labour continues to hold Cardiff West.
In a social media post, Welsh Labour tweeted: "Never in doubt – @MarkDrakeford has been re-elected. Great news for the people of Cardiff West and for Wales!"
First Minister Mark Drakeford won 17,665 votes (48.4%).
Conservatives only won 6,454 votes.
Oliver Trapnell takes over from Luke Hawker
9.30pm update: Results from 76/143 councils declared
Labour has control of 32 councils (-4) with 788 councillors (-174)
Conservatives hold 31 councils (+8) with 1,152 councillors (+161)
The Liberal Democrats hold one council (no change) with 223 councillors (-27)
The Green Party has 60 councillors (+40)
Independent candidates make up 108 councillors (+5)
9.00pm update: Labour hold Cardiff North
The Labour Party held onto Cardiff North with a majority of 6,593 and received 48 percent of the vote.
The Conservatives came in second place with 31 percent
8.40pm update: Labour hold Cynon Valley
Labour hold Cynon Valley in Welsh elections.
8.35pm update: Sadiq Khan loses first preference vote in Ealing and Hillingdon
Conservative London mayoral candidate Shaun Bailey received the highest numberof fist preference votes in the Ealing and Hillingdon constituency.
Mr Bailey scored 79,863 first preference votes, ahead of Mr Khan, who scored 74,854 votes.
The Green Party's Sian Berry was third, with 13,041 votes.
Keir Starmer is under mounting pressure
(Image: PA)
7.55pm update: Recap after 66 of 143 councils declare results
The Tories has so far taken 1,037 council seats, an increase of 157.
7.40pm update: Tories gain control of Maidstone
The Conservatives gain Maidstone from no overall control
The Tories gained five seats in the council election, while the Lib Dems lost four.
Maidstone has been under no overall control since 2014.
6.55pm update: Conservatives gain Cornwall
The Conservatives gain Cornwall from no overall control.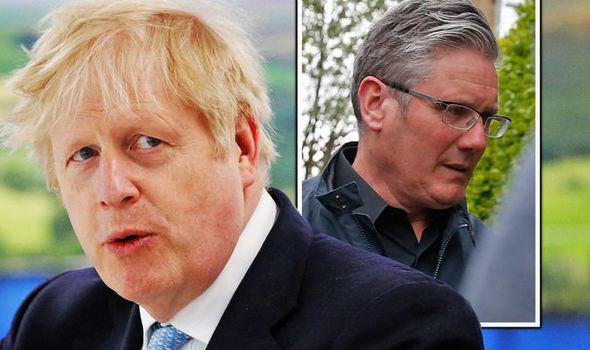 The Tories were up 20 seats and had 37 percent of the vote.
The Liberal Democrats were down 16 seats.
6.40pm update: Tories hold Clwyd West
The Conservatives hold Clwyd Wes
t with a majority of 3,685.
6.30pm update: Labour MP Khalid Mahmood resigns from shadow cabinet
Labour
MP Khalid Mahmood has resigned from his role as shadow defence minister as he hit out at the "London-based bourgeoisie".
In an article for the Policy Exchange think tank, he said
Labour
must recognise it is seen as "a party that has lost its way" in places that were once "unfailingly loyal".
He added: ""It is only by engagement on a local level, meeting eye to eye with voters and hearing their concerns, that we will fix that.
"I will be doing so not from the
Labour
front bench, but walking the streets of my constituency as a backbencher and talking face to face with the people I have the honour to serve."
Sadiq Khan's nightmare: Low turnout sparks fears of surprise result
Election results 2021: When will we know the results? Full list
5.50pm update: Labour lose Bebington council to the Green Party
The Green Party has gained Bebington (Wirral) council from Labour.
The Green Party's vote was up by 55.6 percent, while Labour's was down by 27.4 percent.
The Tories were third, down 11.4 percent.
5.30pm update: Labour holds Wrexham
Labour has held Wrexham in the Welsh elections.
5.15pm update: Starmer takes responsibility for election woes
Labour leader Sir Keir Starmer has taken responsibility for his party's humiliating local election results and insisted he is "absolutely determined to do whatever is necessary to fix things".
He said: "I intend not only to take responsibility for the results, but to take responsibility for fixing things.
"I will set out what change is needed over the next few days, but I'm absolutely clear in my mind and absolutely determined to do whatever is necessary to fix things and to make sure we can make that case to the country in a compelling way."
4.55pm update: Starmer says Labour will do 'whatever is necessary' to rebuild trust in voters
Keir Starmer has said he will do "whatever is necessary" to rebuild trust in the party following its "bitterly disappointing" by-election defeat in Hartlepool.
Sir Keir said: "Very often we have been talking to ourselves instead of to the country and we have lost the trust of working people, particularly in places like Hartlepool. I intend to do whatever is necessary to fix that.
"This is not a question of left or right, it is a question of whether we're facing the country.
"We have changed as a party. We have not made a strong enough case to the country."
4.45pm update: Labour win Liverpool mayoral election
Labour's Joanne Anderson has been elected Mayor of Liverpool following the second round of voting.
4.30pm update: Labour lose control of Sheffield City Council
Labour has lost control of Sheffield City Council in local elections to no overall control.
The party lost eight of the 21 seats it was defending.
Five seats went to the Greens, three to the Lib Dems. The Tories gained a seat from Independents.
3.55pm update: Labour lose control over Rossendale council
Labour has lost control over Rossendale council after losing three seats.
Labour now has 17 seats, while the Tories made three gains and are now on 16.
Other parties won three seats.
The council now has no overall control.
3.30pm update: David Cameron congratulates Jill Mortimer on Hartlepool election win
Former Prime Minister David Cameron has congratulated Jill Mortimer on winning the Hartlepool by-election.
He wrote on Twitter: "
Huge congratulations to
@Jill4Hartlepool on her historic & richly deserved victory!
"Also well done to all Conservative candidates & volunteers who have campaigned so hard these past weeks.
@Conservatives continue to demonstrate how we are delivering on #PeoplesPriorities."
3.20pm update: Second round votes being counted in Liverpool Mayoral race
The second round of votes are being counted in the race to become Mayor of Liverpool after no candidate reached 50 percent of the vote in the first round.
First round voting:
Joanne Anderson (LAB) 38,958 (38.51 percent)
Stephen Yip (Ind) 22,047 (21.7 percent)
Richard Kemp (LD) 17,156 (16.96 percent)
3.10pm update: Conservatives hold Derbyshire – winning nine Labour seats
The Tories has extended its majority by nine - winning 45 of the 64 seats.
The Labour Party lost 11 of the 25 seats they were defending - winning just 14.
Lord Adonis reacts to Hartlepool by-election result
2.48pm update: SNP hold Dundee West
The SNP has held the seat with 61.6 percent of the vote in comparison to the Labour's 21.5.
2.39pm update: Figures worsen for Keir Starmer
After the huge loss in Hartlepool earlier today, Labour look set for a huge loss in the council election with the polls reporting a loss of 90 council seats.
The Tories have gained 76 on the Opposition and stand with 381 seats in total.
2.33pm update: Sadiq Khan and Shaun Bailey tied
According to London elects, as of 2.20pm the Labour mayor is tied with his Tory rival with 38 percent.
Sian Berry and Luisa Porritt are on eight and four percent respectively.
2.08pm update: Labour suffers more losses
Labour council leaders in Derbyshire, Nottinghamshire and Leicestershire have all lost their seats according to BBC Radio Derby's Chris Dodge.
Election live: Boris Johnson has praised the early results
(Image: GETTY)
1.50pm update: SNP holds Na h-Eileanan an Iar
The SNP's Alasdair Allan has won the seat with 7,454 seats (51.4 percent of the vote).
1.38pm update: Tory representative wins Montgomeryshire
Russell George has won the first declared in the Senedd election today.
The Tory candidate won 12,013 votes (48.1 percent of the overall share) while Plaid Cymry's Elwyn Vaughan won 4,485 votes.
1.19pm update: Lib Dems holds Orkney
The Lib Dems have held the seat with 62 percent of the vote.
The SNP, however, have held the seat of Aberdeen Donside with Jackie Dunbar selected as MSP.
1.08pm update: Jeremy Corbyn tweets
The former Labour leader said: "Tory gains are bad news for jobs, the environment & public services for the many not the few.
"With millions not voting, these results show a loss of hope.
"We must offer a bolder vision to transform people's lives & give them the confidence to strive for a more equal world."
12.58pm update: Tactical voting benefitting Tories in Scotland
Tactical voting is benefitting Tories in Scotland, an insider has claimed.
They said: "It generally looks like the tactical voting has worked in terms of our supporters voting tactically in Labour seats or where the challengers are Lib Dems.
"It's early doors, the counts are taking longer so we are a long way behind."
12.48pm update: Boris Johnson praises early results
The Prime Minister has claimed the early results of the election are "very encouraging".
He added the reason for the uptick from the election is due to the Government focusing on "our priorities, the people's priorities, and bouncing back from the pandemic as much as we can".
He will also visit Hartlepool later today after the Tories won the by-election.
12.38pm update: Lib Dems take Duxford
The Lib Dems have taken the Cambridgeshire council seat of Duxford from the Tories.
The Lib Dems took 48.3 percent, the Tories 41.1 percent and the Green Party who received 10.6 percent.
12pm update: Shaun Bailey takes early lead in London mayor race
Counting began at 11.30am this morning and has shown Shaun Bailey to have taken an early lead with 40 percent of the vote.
Sadiq Khan is on 35 percent, the Green's Sian Berry is at eight percent while the Lib Dem candidate Luisa Porritt is on four percent.
Election live: Counting will be delayed due to certain covid restrictions
(Image: Stefan Rousseau/PA Wire)
Election live: Starmer leaves his north London home this morning
(Image: Stefan Rousseau/PA Wire)
11.46am update: Tories hold Thurrock
The full results for Thurrock are now in and the Tories have held the council.
Indeed, the Tories have increased their share by six after winning 13 seats.
Those six were from UKIP while Labour won four which is no change to their overall number.
11.39am update: Conservative gains from Labour in Harlow
The Tories have won 12 seats in Harlow, an increase of seven taking their total to 20.
Labour received one and now stand with 13.
11.15am update: Labour criticism for Starmer grows
In what was one of the first attacks against the new Labour leader, Lloyd Russell-Moyle MP for Kemptown & Peacehaven stated the strategy has not worked.
He said: "Good to see valueless flag waving and suit wearing working so well... or not?"
11am update: Dominic Cummings tweets
Commenting on Labour's poor morning, the former adviser said: "A measure of how bad KS is: until I googled yesterday I didn't know who Shadow CHX is & when I looked at a photo I had 0 recognition, she never touched my consciousness in a year."
Election live: The Cabinet Minister seats held by Tony Blair's firt Government
(Image: Twitter )
10.31am update: Labour's strategy has not worked - McCluskey
Speaking today the Unite boss said: "Staggering and worrying loss in Hartlepool.
"The strategy of the last year has not worked. Disconnection from our heartland communities will only deepen unless they can look at Labour and see a party with clear, bold policies that understands and speaks for them."
10.19am update: 'Get on with it' Iain Dale snaps as Jacqui Smith deflects from GMB election coverage
Iain Dale snapped at fellow Good Morning Britain guest Jacqui Smith on Friday's edition of the programme as the former MP seemed to deflect from coverage of the local elections at the start of her appearance on the show.
Mr Dale, 58, and Ms Smith, 58, joined Kate Garraway, 54, and Alex Beresford, 40, on Good Morning Britain in light of the local elections taking place across the UK on Thursday.
To start off the debate, Garraway asked her guests to give their analysis of the Labour Party losing the hotly contested Hartlepool seat to the Conservatives.
However, the former Strictly Come Dancing contestant was more interested in being allowed back into the ITV studios but Dale wanted to bring the conversation back to politics.
9.56am update: Scottish Parliament election counting begins
Counting began earlier this morning for the Scottish election seats whereby 47 seats will be announced today.
From 9am on Saturday, the remaining 27 will be counted.
Scotland election is 'on a knife edge' says Ross
9.43am update: Dominic Cummings - Pundits were wrong!
In a tweet today, the former No10 adviser said: "When pundits who 'explained' why Vote Leave's plan to realign politics was mad/stupid/impossible now give post hoc 'explanations' for why it's all so logical/inevitable ... ignore their babble.
"Pundits = noise not signal. Eg 'the centre ground' DOES NOT EXIST, it's pundit fiction."
9.22am update: Jeremy Corbyn still the issue - Lord Mandelson
Speaking to the Today programme today, former Hartlepool MP Lord Peter Mandelson said: "Believe it or not, not on one door that I knocked did a single voter mention Brexit to me.
"The one thing they did raise with me however is Jeremy Corbyn - he is still casting a very dark cloud over Labour. Labour voters are not letting this off lightly, he still gets them going on the doorstep.
"One person said to me 'Sort yourselves out, sort yourselves out. You picked the wrong brother and you ended up with Corbyn so that's goodbye to you. When you've sorted yourselves out, we'll look at you again'.
"That is what the Labour Party has got to do."
9.19am update: Dudley results in full
The Tories have gained 12 seats on the council, taking the number to 46 seats.
Labour has now lost 11 seats taking the total to 24 seats.
9.03am update: Keir Starmer needs to be given a chance
Speaking on the Today programme, former Shadow Chancellor John McDonnell said: "Keir's got to be given his chance and I've said that all the way along.
"I'm not going to be one of those people treating him the way they treated Jeremy Corbyn - always challenging him, coups and all the rest."
Election results dates and times
(Image: Express)
8.58am update: Tories take control of Dudley
The Tories have taken 21 of the 26 seats contested in Dudley in another blow to Labour.
Labour had previously held the highest number of seats in the council.
8.44am update: Sir John Curtice provides election update
Speaking today, Sir John claimed former Brexit Party voters had moved to the Tories, as seen in Hartlepool.
He added the realignment of British politics which started over Brexit is being continued today.
Sir John told BBC: "The Labour Party's strategy is to say as little as possible over Brexit.
"But the polls have told them it isn't working.
"This will raise questions over Labour's strategy going forward."
The polling guru claimed, working-class areas are now shifting completely to the Tories.
8.22am update: Labour holds Sunderland
Although the Opposition has held the council the Lib Dems and Tories made significant gains.
Election live: Boris Johnson was given a major boost with the Hartlepool win today
(Image: GETTY)
8.01am update: Pressure grows on Keir Starmer
The Labour leader is coming under pressure from those on the left with Corbyn ally and MP for East Leeds, Richard Burgon demanding the leadership change direction "urgently".
The pressure group, Momentum also said: "The leadership are reacting to this disaster by promising 'more change' - but over the last year we've gone backwards.
"It's time to change direction, not double down on a failed strategy."
7.47am update: Tories take control of Northumberland
The Tories have gained one seat in the council to take the majority with Labour losing one.
7.40am update: Shadow Cabinet member admits party 'hasn't done enough'
Speaking to the BBC this morning, Steve Reed, shadow secretary for communities and local government said: "We're going to see a lot more results throughout today and Saturday and over the weekend, from elections right across the country, so we'll have a clearer picture at the end of that period, and I suspect the results are going to be patchy.
"Certainly from my door-knocking - places like Sheffield, Nottingham, Bristol, Milton Keynes, Hertfordshire - the reaction on the doorstep to me as a Labour campaigner has been a lot warmer than it has been in recent years, but that isn't enough if it's not translating into votes.
"So I think people understand the leader has changed, they don't understand the party has changed, because we haven't yet done enough to prove that.
"So the job in front of us all over the next few weeks, led by Keir, will be to get out there, re-engage with the British public, and reconnect our party so that we can show our party can deliver on the aspirations and ambitions that people have for themselves their families and their communities."
7.30am update: Labour holds Doncaster
Labour has held Doncaster mayoral election this morning with Ros Jones taking 59.8 percent of the votes.
Hartlepool result is an 'earthquake' says political insider
7.25am update: Hartlepool results in full
Here are the full results from all 16 candidates:
David Bettney, Social Democratic Party - 104
The Incredible Flying Brick, The Official Monster Raving Loony Party -108
Hilton Dawson, The North East Party - 163
Gemma Evans, Women's Equality Party - 140
Rachel Sara Featherstone, The Green Party - 358
Adam Gaines, Independent - 126
Andrew Michael Hagon, Liberal Democrat - 349
Steve Jack, Freedom Alliance, No Lockdowns, No Curfews - 72
Chris Killick - 248
Sam Lee, Independent - 2,904
Claire Martin, Heritage Party - 468
Jill Mortimer, Conservative Party - 15,529
John Prescott, Reform UK - 368
Thelma Doris Walker, Independent - 250
W. Ralph Ward-Jackson, Independent - 157
Paul Daniel Williams, Labour Party - 8,589
Election live: Jill Mortimer speaks after election win
(Image: BBC)
7.08am update: Tories win Hartlepool
In a huge result, the Conservatives have taken the seat from Labour for the first time since 1974.
In full, the Conservative candidate, Jill Mortimer won by 15,529 seats while Labour's Paul Williams took 8,589.
7.07am update: Oldham council leader loses seat
Oldham's Labour council leader has lost his seat to an independent candidate.
In a statement this morning, Sean Fielding said: "While tonight is obviously disappointing, the electorate of Failsworth West have spoken. It's no secret that I have been saddened by the tone of the campaign both politically and personally.
"I have served Failsworth as a Councillor for nine years, ensuring local green belt is protected, reinstating local youth services and saving vital local bus routes.
"I have also been privileged to serve the borough as Council Leader for the last three years, steering Oldham through the unprecedented challenge presented by Covid and developing a new vision for the Town Centre.
"I'm incredibly proud of what we have been able to achieve as a Labour Council during my time as Leader. All at a time of savage austerity cuts to vital public services."
"And I'm also proud that I've been ambitious for Oldham, the town where I was born and brought up, and where I still call home. That ambition is unwavering, although I'm no longer serving as Leader. The people of Failsworth and of Oldham deserve the very best."
Bill McLoughlin takes over from Oliver Trapnell.
Election live: Keir Starmer is expected to lose Hartlepool today
(Image: GETTY)
6:55am update: Harlow - Former Labour Leader 'disappointed
Mark Ingall, the former leader of Harlow Council, is "disappointed" after losing his seat in Harlow to the Tories
The Conservatives gained 12 of the 13 seats being contested in Harlow.
Mr Ingall said: "I am proud to have served as a Labour councillor and proud to have represented Bush Fair."
6:35am update: Keir Starmer to 'take responsibility' for election results
A Labour source has claimed that Sir Keir Starmer would "take responsibility for these results" as the party prepares for a devestating defeat.
The source said: "We've said all along the North East and the Midlands would be difficult.
"We also said the places declaring Thursday would be particularly difficult.
"But the message from voters is clear and we have heard it – Labour has not yet changed nearly enough for voters to place their trust in us.
"We understand that. We are listening. And we will now redouble our efforts.
"Labour must now accelerate the programme of change in our party, to win back the trust and faith of working people across Britain.
"People don't want to hear excuses. Keir has said he will take responsibility for these results – and he will take responsibility for fixing it and changing the Labour Party for the better."
6:20am update: Labour lose out to Green Party in Reddish South (Stockport)
The Green party has gained from Labour in Reddish South (Stockport).
The Greens scored 48.1% of the vote compared to 34.7% for Labour.
The Green party were up 41 percentage points while Labour slipped 23.1 percentage points.
6:12am update: Labour source makes bizarre claim about latest election results
A Labour source told Channel 4 News: "Just because we have stopped pissing in the bath doesn't mean people want to jump in with us straight away."
5:55am update: 'Newcastle is a stronghold' claims Professor Michael Thrasher
Speaking to Sky News, Professor Michael Thrasher called Newcastle "a stronghold".
He added that "Friday, Saturday, and Sunday is going to be a long slow process for the Labour party to accommodate the scale of losses they might suffer."
5:30am update: Summary - Tories tipped for big win in Hartlepool By-election
Labour held Newcastle, Sunderland, South Tyneside and Gateshead.
The count continues in Northumberland.
Labour MP Jim McMahon effectively conceded that Labour has not "got over the line" in Hartlepool.
Tories tipped for a big win in Hartlepool by-election.
State of the parties (in seats):
LAB: 100 (-38)
CON: 81 (+40)
LIB: 22 (+3)
GRN: 4 (+2)
5:30am update: Labour Leader of Sunderland City Council claims it would be 'foolish' to let Keir Starmer go
Councillor Graeme Miller (Lab), Leader of the Sunderland City Council, says it's been a "bad night" for Labour in Sunderland locally, "but it's not time for Keir Starmer to go".
He added that letting Sir Keir Starmer go "would an entirely foolish thing for the party to do."
He said: "We've had a bad night. That night has been caused by the complete collapse of UKIP and all their votes have gone to the Conservative party in the city.
"We've clearly seen the vaccine rollout has given the Conservative party a 10 point bounce on the vote anyway, so when you add those two things together, the Conservatives in Sunderland have had a very good night and the Liberal Democrats have had a very good night as well.
"It has nothing to do with blaming the leader of the Party which I think is entirely wrong."
Boris Johnson votes in Local Elections in London
(Image: Getty Images)
4:56am update: Tories have won all contested seats in Redditch
The Conservatives won all nine of the seats being contested in Redditch, the first council result of the night, gaining seven seats from Labour.
There was no change of control, with the Conservatives holding 25 seats on the new council and Labour just four, losing both their leader and deputy leader.
4:54am update: 'Blow-up' Boris Johnson makes appearance outside Hartlepool
The Tories have erected a giant inflatable Boris Johnson outside the by-election count in Hartlepool.
The giant balloon shows Boris Johnson with both thumbs up in anticipation of the Hartlepool victory.
4:21am update: Labour hold Sunderland and Newcastle-upon-Tyne
Councils in Sunderland and Newcastle-upon-Tyne have been held by Labour.
Both towns are traditionally Labour voting.
3:50am update: First results in from Thurrock - UKIP 'being absorbed' by Tories
UKIP have been completely absorbed by the Tories as the first results from Thurrock come in.
Lewis Goodall, Policy Editor for BBC Newsnight, tweeted: "First result from Thurrock. Same pattern- UKIP being absorbed by the Conservatives and a Tory gain from Labour."
Chadwell St Mary was the first council result to come in from Thurrock with the Conservatives gaining from Labour.
Tories also gained from UKIP in East Tillbury (Thurrock) with 42.8% of the votes. UKIP had no votes.
3:40am update: Hartlepool voter turnout confirmed less than previously reported
Sky News had previously reported that voter turnout in Hartlepool had topped 50% but the returning officer confirmed this was not true.
Local election turnout: 47%
Parliamentary by-election: 42.55%
PCC: 41.75%
Combined authority mayor: 41.71%
3:36am update: Labour MP Jim McMahon accepts early defeat
Speaking to TFM News, the Shadow Transport Secretary, said: "It's quite clear from the way the ballots are landing on the tables that we haven't secured the victory that we had worked so hard for, our volunteers have worked hard for and our candidate have worked hard for.
"It's quite clear from the ballots...that we aren't going to get over the line. What we don't know at this point is by what degree."
He added that Labour had led a "campaign with integrity."
Hartlepool voter ballots
(Image: Getty images)
3:25am update: Newcastle ward results in! All results have now been declared
Of the 28 seats up for grabs tonight:
18 Labour
6 Lib Dem
2 Newcastle Independents
2 Independent
3:10am update: Tories now have majority in Nuneaton & Bedworth for first time since 2008
The Conservatives now have a majority on Nuneaton & Bedworth for the first time since 2008 after gaining a seat in Exhall council.
Conservatives won the council seat with nearly 60 per cent of the votes (59.7%).
Labour had only 40.6% of the votes.
Conservatives were up 41.5 percentage points in Exhall compared to the previous election.
2:50am update: BREAKING -
Labour MP concedes defeat in Hartlepool by-election
Jim McMahon, Shadow Secretary of State for Transport, concedes defeat in the Hartlepool by-election.
The Labour MP told Sky News: "It's pretty clear from the way the ballots are landing that we are not close to winning this despite our best endeavours."
He added that it was too early to tell the results, simply saying "we'll see."
Hartlepool votes being counted
(Image: Getty images)
2:30am update: Labour did not expect to re-engage the 'red wall' in this election claims Shadow health minister
Alex Norris, Shadow public health minister said Labour did not expect to recover from the 2019 General Election loss within 18 months.
Speaking to The Independent, Mr Norris said: "No one thinks this process is over, no-one thought this would be done in 18 months - that would be a very unlikely situation, but we are on that road, we are listening to people and I think we are making progress from tonight and onwards."
He added: "We are going to take our successes as we get them with humility and then we are going to own where we fall short, because we are in a long-term project of re-engaging with people."
2:06am update: Voter turnout has topped 50% in Hartlepool claims Sky News
Sky News reported that the voter turnout in Hartlepool was "on the high side for a parliamentary By-election".
2:05am update: 'Crunch time' for Keir Starmer as Tories confident of Hartlepool victory
The Conservatives are confident of winning Hartlepool with majority of 'several thousand'
One Tory source told the PA news agency that a majority of several thousand could be obtained, and while the result might be close, they would win.
Staff at the count have not yet begun to count the votes, which were still being verified.
Hartlepool votes being counted
(Image: Getty Images)
1:35am update: Tories gain another seat from Labour in Sunderland
The Conservatives won a landslide victory in St Peter's (Sunderland) as Labour lose another council seat.
The Tories gained 53.8% of the votes compared to 31.4% for Labour.
1:30am update: BREAKING - Leader of Labour group loses council seat by just ONE VOTE.
The leader of the Labour group on Northumberland County Council has lost her seat to the Tories.
Eight of the 57 seats have been declared in Northumberland so far with the Conservatives gaining two seats from Labour already.
Several other seats are looking to be tight.
1:10am update: Hartlepool latest - 'Shock Conservative victory' prediction
Pollsters and bookies have predicted a "shock Conservative victory" in Hartlepool.
Chief political correspondent at Sky News, Jon Craig said "all the expectation is that Labour has lost" the by-election in a constituency which has been Labour since it was created in 1974.
He added "arguably Labour have blundered" by picking a Remainer MP in a pro-Brexit seat.
Hartlepool By-election - Ballot papers verified
(Image: Getty Images)
12:30am update: Lib Dems steal Hendon (Sunderland) from Labour
The Lib Dems have snatched away Hendon (Sunderland) in a decisive victory, garnering 42.2% of the votes compared to 34.8% for Labour.
Earlier this evening, Labour sources told Beth Rigby, that Sunderland was looking "very bad" for Labour.
Sources speculated that Sunderland would end up in "some kind of Tory/UKIP coalition".
Results via Britain Elects
12:10am update: Hartlepool latest - Labour sources claim Tories 'well over' 50% of vote share
Emilio Casalicchio political correspondent for POLITICOEurope, tweeted: "Lab sources on the ground here in Hartlepool also reckon the Tories have 'well over' 50% of the vote share."
News sources are reporting that the Hartlepool result could be announced as late as 7am.
12:00am update: First results in! Narrow victory for Labour
Cowpen (Northumberland) council result:
Lab: 47.0% (-6.7) - 398 votes
Con: 44.7% (+27.3) - 378 votes
Ind: 8.3% (+8.3) - 70 votes
No UKIP (-23.4) as prev.
Lab HOLD
'Judgement day' for Keir Starmer claims Sky News Political Editor
(Image: Getty Images)
11:45pm update: 'Judgement day' for Keir Starmer as things looking tough in Hartlepool
"Tomorrow will be a day of judgement...for Keir Starmer far more than Boris Johnson," claimed Sky News Political Editor, Beth Rigby.
Reporting live from Hartlepool, Ms Rigby predicted a reshuffle of the shadow cabinet in a bid to "shake up" the Labour party.
11:20pm update: Keir Starmer and Angela Rayner thank supporters
Sir Keir Starmer and Angela Rayner have thanked supporters on Twitter.
The Labour leader tweeted: "Huge thank you to all the incredible Labour Party members who have given up their time to campaign in these elections. You're an inspiration."
In a similar fashion, Angela Rayner tweeted: "As polls close I want to thank all of our fantastic candidates and activists who have worked so hard in the most difficult circumstances during this campaign.
"Our party always has been - and always will be - a movement built on people coming together to fight for a better world."
Oliver Trapnell takes over from James Bickerton
10.39pm update: Left has 'blind spot' on Boris Johnson
The left has a "blind spot" when it comes to understanding the public attitude toward Boris Johnson according to political writer Dan Hodges.
He tweeted: "Labour and the Left have many problems.
"But one of the biggest is their blind spot when it comes to Boris.
"In particular their failure to see him as the country sees him."
Sir Keir Starmer pictured before casting his ballot on Thursday
(Image: GETTY)
10.15pm update: Hartlepool humiliation looms for Starmer - Ex-Labour MP condemns Remainer nomination
Sir Keir Starmer will only have himself to blame if Labour loses today's Hartlepool by-election - because the party opted to field an ardent Remainer in a constituency which voted heavily to Leave in 2016, Kate Hoey has said.
And the former Labour MP for Vauxhall - who now sits in the House of Lords as Baroness Hoey - said the "ridiculous" decision was evidence the party had left its core supporters behind.
With a poll earlier this week suggesting Labour's Dr Paul Williams is currently trailing Tory opponent Jill Mortimer by 17 points, Sir Keir has admitted the party is scrapping for every vote.
9.55pm update: Nicola Sturgeon explodes at right wing activist outside polling station - 'Fascist racist!'
Nicola Sturgeon has angrily confronted a right-wing heckler on election day outside a polling station in Glasgow.
Nicola Sturgeon has been confronted while leaving a polling station in Glasgow by a rival candidate for her seat, Jayda Fransen.
Ms Fransen, who is running as an independent, has links with the far-right party Britain First.
Footage shows the activist march up to the SNP leader as Ms Sturgeon gathered with party volunteers leading fiery altercations between the two.
The First Minister stood her ground, branding Ms Fransen as a "fascist" and a "racist" as the row continued down the street.
9.35pm update: Sadiq Khan's election nightmare - Low London turnout sparks panic
Labour's internal numbers show in-person turnout for the London Mayoral election is far lower than in 2016, raising concerns within the party's ranks.
Figures suggest just 11.6 percent of the total turnout at the last London Mayoral election had turned up at polling stations by midday.
The figure is far lower than had been expected by the Labour Party, driving concerns of a shock result.
Car boot used as polling station as church warden oversleeps
'Sadiq Khan has continually let us down!' Caprice hits out
Sadiq Khan wife: Who is Sadiq Khan's wife?