WARETOWN - Ten-year-old Joey Weissenburger sat comfortably at his desk and sorted through a pile of lima beans amidst the chaos of his elementary school classroom. He gestured to a visitor to look at the squares of fabric on his left.
"We're doing this to figure out about the radiation and how it will affect the lima beans and to see if they will get affected with the red, the blue or both of them together," he said as he wrapped a lima bean in red felt and placed it on a small scale. "We have to make sure that it all weighs a certain amount, because we can only have 62 to 66 grams and we can't have anything under 62 or over 66."
That's the kind of precision you need when your elementary school science project is going into space. It's a thrill Brent Cunningham's fifth and sixth grade students at Frederic A. Priff Elementary School will soon enjoy.
"This is like high school stuff, ionizing radiation and non-ionizing radiation," said Weissenburger. "We enjoy this club though, because we all like science and we all like to do math and try to figure stuff out."
For Cunningham's students, a conversation about the effects of radiation on plant life is not uncommon within the walls of his colorfully decorated classroom.
More:Waretown's junior fire academy is ablaze with excitement
More:Wounded vets get a day of fishing in Waretown
Last Thursday, after months of planning, a group of Cunningham's science-savvy students gathered for their weekly Cubes in Space meeting to measure and test the experiments that will eventually be placed in 4-cm-by-4-cm cubes and launched into space June 21 from NASA's Wallops Flight Facility in Wallops Island, Virginia.
"I didn't expect it," Cunningham said about the space launch. "There were experiments coming in from around the world, and to be able to have the ones that got the green light to go ahead and fly, that was really cool."
The NASA program, which has released more than 400 experiments into space since its 2014 founding, gives students ages 11 to 18 the opportunity to foster their STEM abilities through research, planning and education. After submitting their experiment proposals, students across the globe were informed if their project earned a spot aboard the program's sounding rocket or research balloon.
More:Toms River begins its $763K robotics, computing project
More:Liberty Science Center after dark parties mix gin, Jupiter
"I felt really happy and excited," Joey Nascimento, 12, said of their space launch approval. "I was just mind blown because of all the countries that were going into this. I didn't know that we, in this little state of New Jersey, would get picked to go into space."
Cunningham discovered the program in November through a Facebook group for teachers and thought the opportunity was too good to pass up. He received a list of possible experiments and had his students start brainstorming.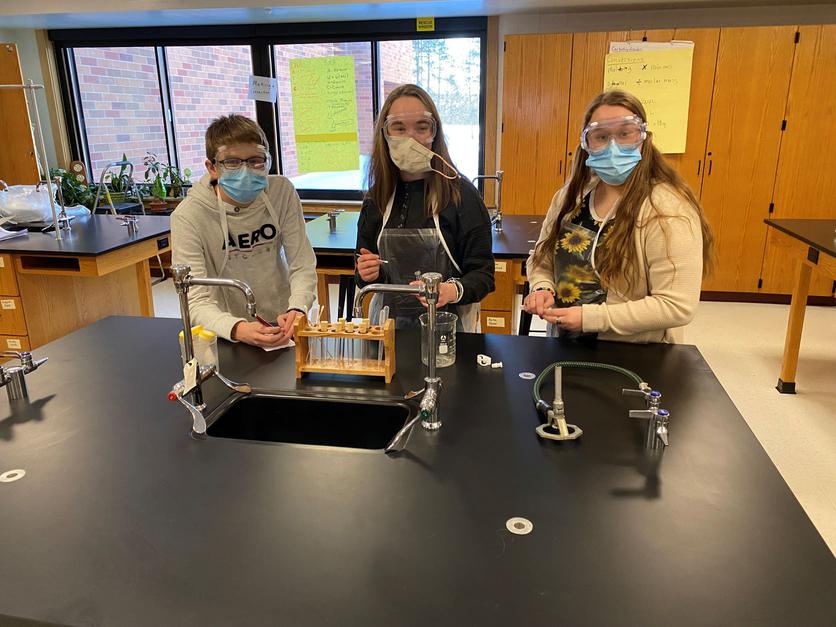 "We researched what the rocket was going to experience, like increased G-forces and temperature variation," he said. "We tried to manipulate one of those changes and the one that seemed the easiest for (the students) to manipulate with their educational background was radiation."
Cunningham's students decided to focus on the effect radiation in space would have on plants and lithium ion batteries.
"We are trying to see if people could live on Mars so we are sending things up to space to see if they will get disrupted or hurt by the high radiation," said Madison Rehman,11.
At their latest meeting, the students weighed and measured the lima beans and the quick-growing Wisconsin Fast Plant seeds they plan to send into space. The students will attempt to protect a portion the beans and seeds from radiation by wrapping them in aluminum foil and fabric. The rest of the beans and seeds will travel to space unprotected.
Cunningham describes the experiment's rocket ride as a "parabola."
"They're not staying up there for a long period of time," he said. "(The rocket will) go up, it will cruise around through the ionosphere, and then it'll come crashing back down. Everything gets recovered by NASA and then the cubes get sent back to us. We're going to take those seeds out and, in a controlled environment, plant them and the controlled seeds we kept here and watch for changes along the way."
Gavin Davis, 11, has high hopes for the experiment and is confident in their findings.
"I think [the radiation] is going to damage the DNA a tiny bit but, overall, my hopes are that it won't damage anything with the DNA and they'll be able to grow," he said.
Along with plant life, two of Cunningham's students wanted to see the effect radiation had on lithium ion batteries.
"They came up with the idea all on their own," Cunningham said. "One day they left, and then came back with this whole thing. It was impressive."
Because of NASA's strict rules against powered experiments flying in the sounding rocket, the lithium ion experiment was given a spot in the program's research balloon set to launch is August.
"I thought it would be really cool to test something out that could possibly help humans in the future and for later science experiments," said Nascimento who is one of the two students working on the project.
Cunningham's overall goal for the project lays within his love for science, something he hopes he can instill in his students.
"Even from the humble burb of Waretown, they can go on to do big things like this," he said. "Instead of groaning when they hear something about science, I want them to be excited to do something with it."